Nobody thought he would win the Labour leadership, not even Corbyn himself. One tumultuous year on, can he do it again?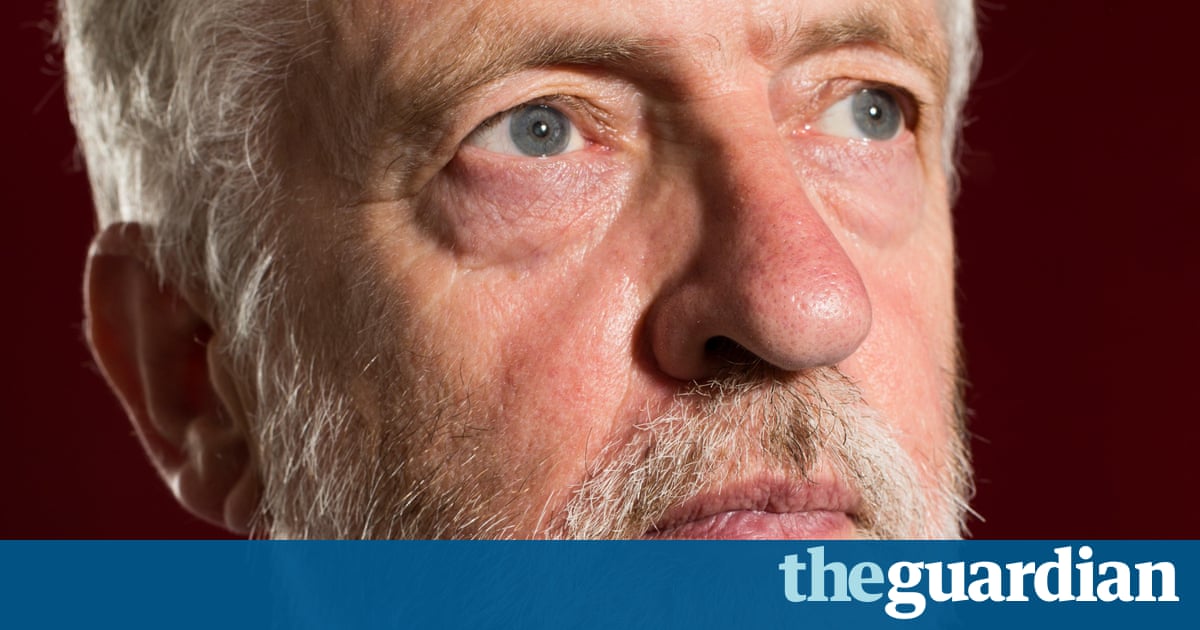 Halfway through my interview with Jeremy Corbyn, Laura Alvarez, his wife, turns up with a pot of homemade blackberry and apple jam for one of his assistants. Its from the allotment, Corbyn says proudly. Its important to have a balance in life. I know my office gets quite irritated because I read lots of other things. I think you have to have an understanding of other things in life, not just the immediacy of politics.
Were in a cafe in Londons Finsbury Park, a short walk from Corbyns home and in the constituency he has represented for 23 years. His voice is quiet, deep and even, a baritone with limited range. Its amazing hes not hoarse. In the past week, he has held two rallies in London and one in Essex, before a short tour of Scotland (Glasgow, Edinburgh, Dundee).
He arrives 20 minutes late, having just been at Notting Hill carnival childrens day. I ask what hes reading now. A history of Iceland. I didnt know much about Iceland, he concedes, but after a public interview he did with the novelist Ben Okri this summer, he was handed a great stack of tomes and has been going through them. Its an old book about the lores of Iceland, and its development on Danish-based Christianity, and the levels of slavery and indebtedness of small farmers in Iceland. Ive only got 100 pages in, so were around the late 18th century.
Politicians usually confect answers about their cultural input to suggest some untapped creativity, or a hip alter ego. Often the plan unravels. In 2006 Gordon Brown said he loved the Arctic Monkeys, only to prove incapable of naming a single song. David Cameron claimed the Jams Eton Rifles was his favourite song, only to have Paul Weller retort, Which part of it didnt he get? It wasnt intended as a fucking jolly drinking song for the cadet corps.
But, for better or worse, Corbyn isnt like other politicians. He might have said he was reading Elena Ferrantes novels, to suggest he was in touch with his feminine side, or a book of world war two poetry to connect with older voters (Theresa May has an enormous 105-point lead in favourability among the UKs eldest voters). Instead, Corbyn just tells you what hes actually reading. If it sounds weird or boring or both, so be it. He couldnt be less calculated.
Given the performative element to modern political leadership, this does, of course, present a potential liability. Asked if he would use nuclear weapons, Corbyn has said simply: No. (He might have said: The whole point is that if you have them youll never use them, but I think the money would be better spent elsewhere.) Asked before the referendum how passionate he was about the EU on a scale of one to 10, he said, Seven, seven and a half. (He might have said: My passion for staying in is a 10. But there are things we can and should improve.) The problem, his critics say, isnt just that he wont play the game; its that he doesnt even know the rules.
For many of his supporters, this is part of the appeal. They are fed up with the game. For them, his ability to speak his mind unselfconsciously, to be guided by conviction rather than pollsters and spin doctors, gives him an air of authenticity they feel has been lost. Last month I watched Corbyn address a packed auditorium in Chelmsford. I love acting, he told the crowd, to laughter and applause. Thats why I go to the theatre, because I really enjoy drama. But when Im in parliament I want to see political representation on behalf of ordinary people, not drama.
Over a cup of tea a few days later, I ask if he entirely rejects the notion that there are certain ways a leader has to perform. I dont reject it outright. Im trying to remould it, because communication is everything. If you cant communicate your views, youre not getting anywhere. Could we do things differently? Probably. Its something I want to develop.
But he is confident when connecting with voters on a personal level. As we walk through his constituency, he chats to a kebab shop owner he knows by name. A few minutes later, he is confronted by a young man on the street.
Yo! Corbyn, man. Why you pull us out the EU?
Corbyn stops. I didnt, actually. I wanted to stay in and reform it. I think there were some problems with it, but I wanted to stay in and fix them.
A little further on, another man approaches. Hes a musician and remembers a time when Corbyn advocated for his band. The area is gentrifying and space is tight; Corbyn helped negotiate with a local landlord to make a room available for them.