The minds behind the answers on
"Jeopardy!"
did not come to play on Monday night when a contestant mispronounced the title of a Coolio song, costing him $3,200.
On the first episode of 2018, contestants were given this Double Jeopardy! clue to win $1,600: "A song by Coolio from 'Dangerous Minds' goes back in time to become a 1667 John Milton classic." The category was "Music & Literature Before & Afters," a popular theme on the quiz show where contestants must combine well-known entities to create a new phrase.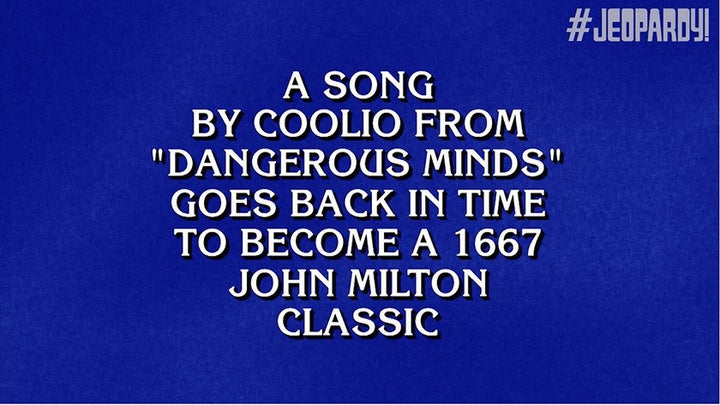 Contestant Nick Spicher buzzed in and confidently answered: "What is Gangster's Paradise Lost?"
The answer pushed Spicher to the lead, going from $9,600 to $11,200.
Moments later, host Alex Trebek revoked the dollar value Spicher had won from the answer plus the penalty he should have received for answering incorrectly.
"Our judges have re-evaluated one of your responses a few moments ago, Nick," he said. "You said 'gangster's' instead of 'gangsta's' on that song by Coolio, so we take $3,200 away from you. So you are now in second place."
You can watch the awkwardness here:
OUCH. Don't mess with the genius of Coolio, my man.
As such, the show "ultimately ruled against Nick's response of 'Gangster's Paradise Lost'" because of one syllable.
"Although Nick's response of 'Gangster's Paradise Lost' was initially accepted, the hard R sound caught the ear of one member of the onstage team, who immediately followed up with a quick check," the blog post reads. "It turns out that 'gangsta' and 'gangster' are both listed separately in the Oxford English Dictionary, each with its own unique definition."
So, because Spicher's response changed not only the title, but also its meaning, it was rendered unacceptable.
Despite his syllabic misstep, Spicher won the competition for the evening. Though he probably should leave the Coolio references to someone else.
<
div class="app-download-interstitial" hidden js-app-download-interstitial bn-app-download yr-app-download" data-block-class="app-download-interstitial">