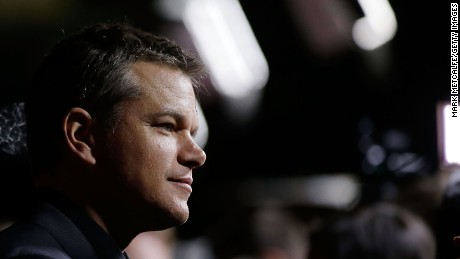 (CNN)The U.K. has its debate about the next James Bond and we've got Jason Bourne.
Matt Damon recently
told the Hollywood Reporter
he knows he's "definitely going to be replaced some day by some new young Jason Bourne." And Damon says he's cool with that.
<
ul class="cn" cn-list-hierarchical-xs cn–idx-4 cn-zoneadcontainer">
"That happens to everybody and they reboot these things, and that's totally fine," Damon said. "The only control I can exercise is over the ones that I'm part of. I'm the curator of them as long as I'm involved and that's why I battled so hard to make sure that we got the same creative people (including director Paul Greengrass) to get involved in this one."
Damon originated the role of Jason Bourne in 2002's "The Bourne Identity." He's appeared in four of the five films currently in the franchise (Bourne doesn't appear in 2012's "The Bourne Legacy" which instead starred Jeremy Renner as agent Aaron Cross).
Since Damon has given us permission to envision others as Jason Bourne, here are a few thoughts on who could potentially fill his kick-ass shoes:
Chris Pine
He's out of this world in the "Star Trek" films and since he's already signed up to play the title role "Jack Ryan: Shadow Recruit," he is clearly comfy stepping into an established role.
And based on the "Jack Ryan" trailer, Pine's got the moves for Bourne.
Chris Hemsworth
Add this Chris to the mix too.
Any man that can wield a hammer like he does as "Thor" can absolutely kick some spy tail.
Have you seen him in "Blackhat" with all that hacker stuff? Whoa!
Chris Evans
Indulge us one more Chris.
Like Hemsworth, he's already an action star thanks to the Marvel movies. If you've played a superhero, you can play an action figure.
Tom Hardy
With his roles in films like "Mad Max: Fury Road," "The Revenant" and the TV series "Peaky Blinders," this British actor has shown us that he can go deep and dark. His turn as real life twin gangsters the Kray brothers in "Legend" was nothing short of brilliant.
Channing Tatum
The only justification here is that he's Channing Tatum.
Michael B. Jordan
Fans fell in love with Jordan in his heartbreaking and acclaimed role in "Fruitvale Station," and with "Creed" and the forthcoming "Black Panther," it just feels like his time.
"Jason Bourne" arrives in theaters July 29.
Read more: http://www.cnn.com/2016/07/12/entertainment/jason-bourne-matt-damon-successor/index.html