Tokyo says informal events chosen to reflect US presidents strong relationship with Shinzo Abe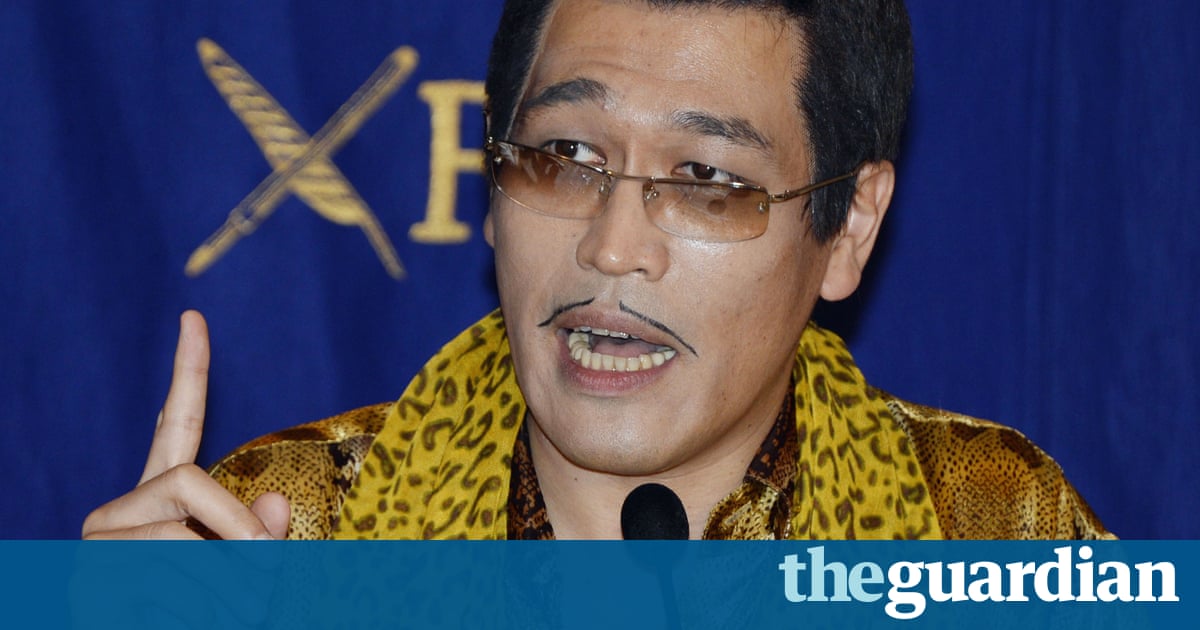 Having already arranged a round of golf against one of the worlds best players, Donald Trumps Japanese hosts have hired the singer behind the online pop sensation of 2016 to entertain the president during his Asia tour.
Piko Taro, whose infuriatingly catchy Pen-Pineapple-Apple-Pen (PPAP) became a viral hit, will sing for Trump and the Japanese prime minister, Shinzo Abe, at a dinner in Tokyo on Monday next week, according to reports.
The song, which contains a handful of words and is just 45 seconds long, would appear to be a wise choice given Trumps famously short attention span.
Kyodo News quoted unnamed officials in Tokyo as saying the inclusion of informal events on his itinerary reflected the strong relationship he and Abe established when they played golf at Trumps Florida estate in February.
Abe, who reportedly had a businesslike relationship with Barack Obama, wants to keep the mood upbeat during Trumps visit, Kyodo said, despite regional tensions created by North Koreas missile and nuclear weapons programmes.
PPAP reached No 1 on the Billboard Japan Hot 100 chart and became the shortest single to chart on the Billboard Hot 100.
It is already a hit with some members of Trumps family. A video showing Ivanka Trumps daughter, Arabella, singing along to PPAP went viral in November last year, coinciding with Abes meeting with the then president-elect in New York.
The invitation is another milestone in Piko Taros remarkable rise from relative obscurity in his other incarnation as comedian and DJ Daimaou Kosaka.
The official version of the song has attracted more than 126m views on YouTube. In the past I was accustomed to performing in front of audiences of between zero and one person, he said last year. And then this happens the internet is a wonderful thing.
The 44-year-old, who recently married Japanese model Hitomi Yasueda, was enlisted by the Japanese government to promote the countrys commitment to sustainable development goals at the UN in New York.
PPAP, which cost just 100,000 yen (670) to produce, spawned countless cover versions, and its catchy tune became lodged inside the heads of people around the world.
It made the singer, whose real name is Kazuhito Kosaka, the first Japanese artist to enter the Billboard Hot 100 since 1990. Well-known fans include Justin Bieber, who shared his admiration for the song with his tens of millions of Twitter followers.
Trump is due to play golf with the Japanese leader and Hideki Matsuyama, the world No 4, next Sunday at the venue for the Tokyo 2020 Olympics tournament. He will also meet the emperor and empress and the families of <a href="https://www.theguardian.com/world/2017/oct/13/trump-meet-parents-japanese-teenager-seized-north-korea-abductions-megumi-yokota" data-link-name="in" body link" class="u-underline">Japanese citizens abducted by North Korea during the cold war.
Read more: https://www.theguardian.com/world/2017/oct/30/japan-donald-trump-pen-pineapple-apple-pen-singer