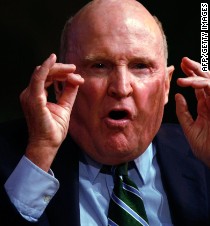 (CNN)Here is a look at Jack Welch's life, former CEO of General Electric.
Personal:
Birth date: November 19, 1935
Birth place: Peabody, Massachusetts
Birth name: John Francis Welch, Jr.
<
ul class="cn" cn-list-hierarchical-xs cn–idx-4 cn-zoneadcontainer">
Father: John Francis Welch, Sr., a train conductor
Mother: Grace (Andrews) Welch
Marriages: Suzy Wetlaufer, journalist (April 24, 2004-present); Jane Beasley, corporate lawyer (1989-2002, divorced); Carolyn B. Osburn (1959-1987, divorced)
Children: with Carolyn Osburn: Katherine; John; Anne; Mark
Education: University of Massachusetts, 1957, B.S. Chemical Engineering; University of Illinois, 1960, M.S., Ph.D. Chemical Engineering
Other Facts:
Head of Jack Welch, LLC, established in 2007.
Media had given him the nickname "Neutron Jack" for his no-nonsense approach to business.
Wrote a weekly column in Business Week with his wife Suzy called "The Welch Way."
Timeline:
1960 – Begins career at GE in the Chemical Development Organization as a chemical engineer.
1972 – He is appointed general manager of the worldwide plastics division and becomes a vice president.
1979 – Vice Chairman and Executive Officer.
1981 – He is appointed Chairman and CEO, the youngest CEO that General Electric Corporation (GE) has ever had.
1999 – Fortune magazine names Welch "Manager of the Century."
September 2001 – Steps down as GE chairman and CEO and is replaced by Jeffrey Immelt.
July 3, 2003 – Announcement is made that his ex-wife Jane Beasley Welch will receive an undisclosed lump sum divorce settlement.
April 13, 2007 – Makes a failed attempt, with other investors, to buy the Boston Globe from New York Times Co.
June 21, 2009 – Pays more than $2 million for 12% stake in Chancellor University System LLC which delivers online education. The MBA program will become the Jack Welch Management Institute.
July 5, 2009 – Is hospitalized and later released after suffering a bacterial infection.
November 2011 –
Sells the
Jack Welch Management Institute
to Strayer University for $7 million. The sale is a 70-30 split with Chancellor University; Welch gets the 70%.
October 9, 2012 –
Welch and wife Suzy
resign
as Fortune magazine and Reuters contributors after his controversial tweet regarding the
Obama
administration and September unemployment data was criticized by Fortune.
April 4, 2015 – Harper Collins releases "The Real-Life MBA," the new book written by Welch and his wife Suzy.
Read more: http://www.cnn.com/2012/12/27/us/jack-welch—fast-facts/index.html