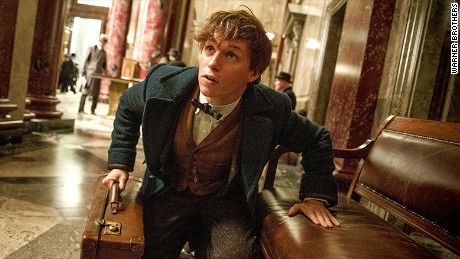 (CNN)J.K. Rowling just breathed some major magic into the days of her fans.
The "Harry Potter" author on Thursday announced that the "Fantastic Beasts" franchise will be a series of five movies — not three as previously reported.
<
ul class="cn" cn-list-hierarchical-xs cn–idx-4 cn-zoneadcontainer">
"I've now done the plotting properly so we're pretty sure it's going to be five movies," Rowling said during a global fan event promoting the upcoming first film, "Fantastic Beasts and Where to Find Them."
Rowling said they had previously said the franchise would be a trilogy as a "placeholder."
Rowling, who wrote the film, showed up as a surprise guest at the end of the event, which featured cast members from the movie. Eddie Redmayne, Katherine Waterston and more were on hand in London. Colin Farrell and Jon Voight, meanwhile, joined the event from Los Angeles.
"Fantastic Beasts" introduces moviegoers to the tale of Newt Scamander (Redmayne), a writer who tracks down and documents magical creatures. In the Potter universe, a book Newt writes based on his research goes on to be studied by Harry and friends at Hogwarts.
It should come as no surprise that Warner Bros., which like CNN is owned by Time Warner, is making a five-movie bet on "Fantastic Beasts." The "Harry Potter" spin-off has been highly anticipated by fans of the Potter universe. And the announcement of the additional films has only turned up the volume on the buzz.
"Potterheads" have been quick to begin tossing around theories about the films to come.
Rowling admitted the cast of "Fantastic Beasts" is more privy to the second film's secrets than they might admit because she has been unable to contain her excitement.
"I kept telling things I shouldn't have told them," she said. "They know quite a lot about the next movie."
"Fantastic Beasts and Where to Find Them" opens November 18.
Read more: http://www.cnn.com/2016/10/13/entertainment/fantastic-beasts-five-movies/index.html