<figure class="media-landscape" has-caption full-width lead">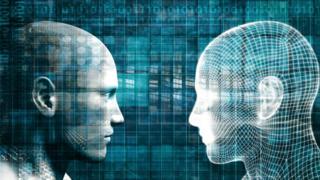 Image copyright Getty Images

Image caption What if AI is harnessed by hackers for malicious purposes?
Technology of Business has garnered opinions from dozens of companies on what they think will be the dominant global tech trends in 2018. Artificial intelligence (AI) dominates the landscape, closely followed, as ever, by cyber-security. But is AI an enemy or an ally?
Whether helping to identify diseases and develop new drugs, or powering driverless cars and air traffic management systems, the consensus is that AI will start to deliver in 2018, justifying last year's sometimes hysterical hype.
It will make its presence felt almost everywhere.
AI can sift through vast amounts of digital data, learn and improve, spot patterns we can't hope to see, and hopefully make sensible decisions based on those insights.
The key question is how much freedom should we give AI-powered systems to make their own decisions without any human intervention?
<div id="bbccom_mpu_1_2_3″ class="bbccom_slot" mpu-ad" aria-hidden="true">