Can national socialism, repackaged as white identity politics, earn votes in rural counties that voted for Trump?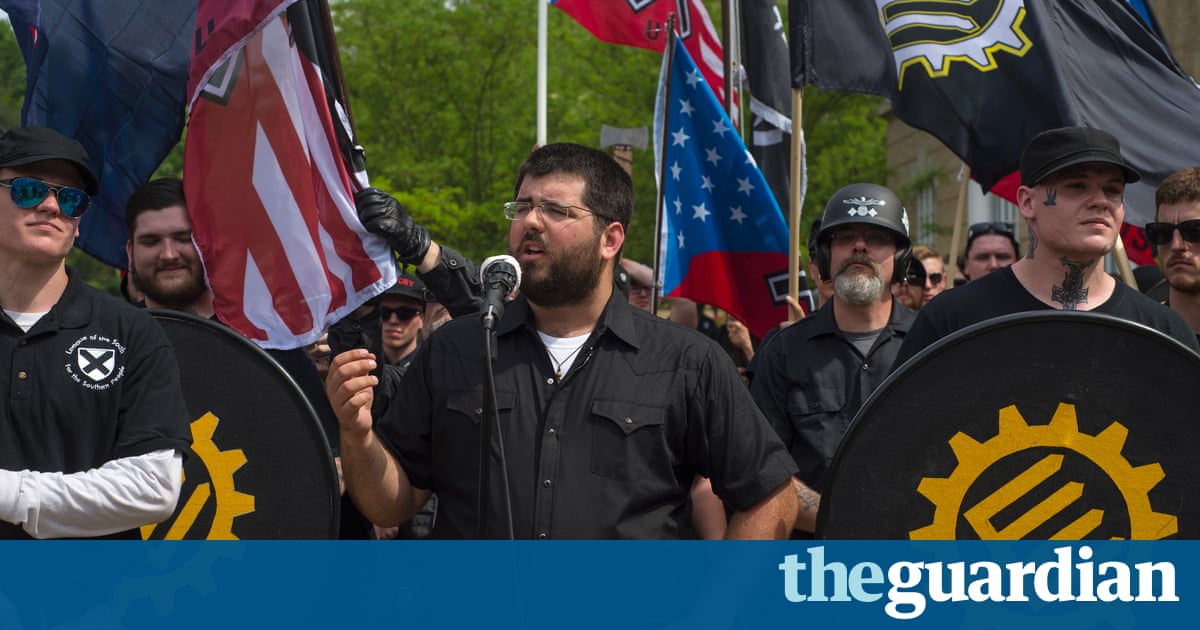 When the men in black walked into her restaurant one Friday morning and sat at the round table in the corner, Brittany Porter knew exactly what they were.
Pale, skittish, aggressively tattooed, they wore black T-shirts with a cryptic white logo over their hearts. One had a razor inked along his left jaw and two SS lightning bolts dripping next to his eye like a double set of tears. One wore a handgun on his hip.
Porter went to the table, smiled and asked what they wanted. It was just after 8am. Two of the neo-Nazis ordered chicken nuggets.
On Facebook the night before, Porter read about the group of racists who were coming to eastern Kentucky to hold a rally. They had chosen an economically struggling stretch of coal country with a population that was 98% white and that had voted 80% for Trump. In their propaganda videos, the neo-Nazi leaders had talked about the scourge of drug addiction in Pike County.
At 30, Porter knew Pike Countys problems. She herself was a recovered addict, as was her friend Chrissy Wooton, another waitress at the restaurant. Neither of them trusted either political party. Wooton, whose husband is a coal miner, had voted for Trump. Porter had not.
Together, they discussed whether they should start the day by accidentally pouring coffee into the neo-Nazis laps.
The neo-Nazis were on their way to Whitesburg, Kentucky, where they had secured a private piece of land in the woods to hold a weekend summit with a coalition of other white nationalist groups. At the table, there were several members of the Traditionalist Workers party, including Jason, a sallow musician in a black-metal punk band who left New York City to move to a mostly white community in Indiana; Scott, who had recently been kicked out of an Irish pub in Kentucky for celebrating Hitlers birthday; and Gabe, diffident and a little shy, with long eyelashes and the white power tattoos on his cheek.
Porter and Wooton watched from distance, swooping in now and then to refill the coffee cups. But they were too curious to stay quiet. Porter said people on Facebook were talking a bunch of crap. They were saying that the group was the Ku Klux Klan.
Wooton asked again more bluntly: Are you guys KKK?
The event the men were attending did, in fact, have KKK members on the list of potential guests. But the men at the table laughed and grinned. They were a political party, Matthew Heimbach, the groups 26-year-old leader, explained gently. Our motto is faith, family and folk, he said. Heimbach was the most famous man at the table: the one who was being sued for shoving and shouting at a young black protester at a Donald Trump campaign rally last March, and who had recently filed legal papers saying that Trump, who had reacted to the protesters by shouting Get em out of here!, should be held responsible for his behavior.
Heimbach was wearing the same black T-shirt, with his partys logo, as the other men, but he had a big cross around his neck and the cheerful bearing of a youth pastor: burly, bearded, bouncy with enthusiasm. One Kentucky local who watched a propaganda video Heimbach made had been perplexed that he looked like a teddy bear.
Their political party had been misrepresented, Heimbach explained to the waitresses. Theyre not the KKK. Theyre focused on family and faith and local control, on fighting the international corporations who came into Appalachia and took all the profits from Kentuckys coal. Heimbach did not try to sell the waitresses on his plan for a white ethno-state, his conviction that the Holocaust did not happen, his belief in thousands of years of Jewish conspiracy. He just talked about family struggles and immigrants taking jobs and hurting workers and how white Americans needed more representation.
Wooton, who had voted for Trump, was responding enthusiastically. She was furious at the lack of government response to the opioid addiction crisis and skeptical of establishment politicians. Her husband, a coal miner, had lost his job under Obama and been hired again three days after Trumps inauguration. Wooton came back to the table repeatedly to press Heimbach for more answers, explaining her manager was still calling him a racist. She asked if Heimbach was willing to work with people of other races. He said of course he was. He talked about the importance of black communities making decisions for themselves, about how black policemen might be better at policing black neighborhoods. Wooton agreed and agreed again.
Talking to Wooton, Heimbach acted like a local politician: polite, a little longwinded, but genuinely passionate. He was not Richard Spencer, the clean-cut, rich-boy racist who got punched in the face at Trumps inauguration. He was not a ranting internet troll. He was a small-town kid who put himself through college selling custom wardrobe tidying systems, and now he was using those skills trying to sell fascism to the American people.
Heimbachs Pike County trip was part of his broader preparation for 2018, when the party was planning to field six candidates in local elections for school board, county council and other positions in Indiana, Kentucky, Tennessee, North Dakota and Texas. All the candidates will be under 30, all open white nationalists, though they plan to focus their campaigns on more local issues.
Wooton kept coming back with more questions, but it was clear that she liked much of what she she was hearing. When she left the table, Heimbach grinned triumphantly at his group; it seemed he was attracting some local support.
Stepping from the shadows
White supremacists and neo-Nazis complain endlessly about media lies, and yet no one is more eager to pick up the phone than Heimbach and other extremist leaders. Getting attention even negative attention helps them recruit and inch toward the mainstream.
Analysts from the Data & Society Research Institute concluded the far right has risen to new prominence this past year in part by attention hacking, manipulating the conventions of mainstream news. Members of the alt-right, a mixed group of racists, nationalists, antisemites and misogynists, understand that many news stories are built on a framework of conflict and outrage, fueled by the power of a shocking image or the lure of a supposedly telling contrast. The medias dependence on social media, analytics and metrics, sensationalism, novelty over newsworthiness, and clickbait makes them vulnerable, its report said.
People who have had personal run-ins with Heimbach who have experienced him in action say the media should not simply ignore his activities. Instead of glamorizing them or portraying them as cartoonish monsters, scrutiny should attempt to reveal their impact.
However, one anti-fascist observed, it doesnt matter if the news coverage attempts to be negative neo-Nazis will still try to recruit people in the comments section underneath.
Measured in numbers, white nationalists and neo-Nazis remain the fringe of the fringe. Last years BronyCon, the annual conference of grown men who take an ironic fascination in the cartoon My Little Pony, attracted 7,600 people. Anthrocon, a convention of furries who like to do fun things while wearing fuzzy, full-body animal costumes, attracted more than 7,000. The Kentucky neo-Nazi summit in April attracted about 150 people, about 75 of them members of the Traditionalist Worker party. Heimbach claims that his party has 600 dues-paying members nationwide. They do not call themselves Nazis. Heimbach said the term Nazi is a slur, and that he draws inspiration from many fascist and national socialist regimes, not just Germanys.
Heimbach said being labeled a Nazi would undermine his attempt to educate the American people about what national socialism truly is, claiming it invokes every lie and every over-the-top media creation of the last 72 years [since 1945].
Ryan Lenz, an analyst at the Southern Poverty Law Center, which tracks American hate groups, sees no justification for his argument. It is fair to label Heimbach a Nazi because he is an avowed national socialist, Holocaust denier and antisemite.
In this context, Nazi is not a slur. Its not an attack. Its an accurate description, he said.
Neo-Nazi activism in America has been undermined for decades by what both extremist leaders and hate group monitors describe as incredibly childish infighting. Neo-Nazis have squabbled over their religious differences (some are Christian; others are pagans, some worshipping the Norse god Odin; one or two, a Neo-Nazi leader claimed, are even Buddhist), over their uniform and symbol choices, over which neo-Nazi stole which other neo-Nazis girlfriend.
Most of these people are malignant contrarians who have a lot of loyalty and trust issues, said Lenz.
But Trumps rise to power has encouraged the extremists to try to bridge their divides. Neo-Nazis and Ku Klux Klan leaders were jubilant over an openly xenophobic, politically incorrect presidential candidate who promised to stop illegal immigration and enact a Muslim ban and they have pursued news coverage, attracting headlines and staging dramatic photos. In May, a number of different groups met in front of a threatened Confederate monument and set garden torches on fire. In the photos, shared around the world, a mass of shadowy figures and flames made for a startling image.
Campus provocateur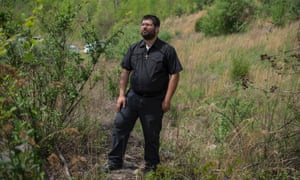 Read more: https://www.theguardian.com/world/2017/jun/04/national-socialism-neo-nazis-america-donald-trump