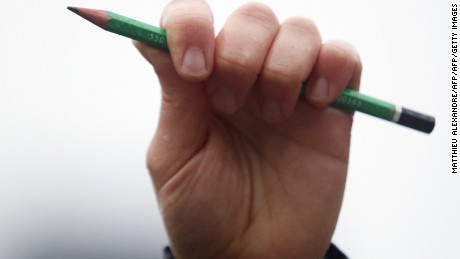 (CNN)First they targeted the cartoonists at Charlie Hebdo. Then football fans and people who loved music, food and entertainment in November's attacks in Paris. On Bastille Day the idea of going for a walk along a beach came under brutal attack.
The murder of journalists and cartoonists at the French satirical magazine Charlie Hebdo in January 2015 prompted a flood of cartoons in an effort to show the pen was mightier than the sword.
<
ul class="cn" cn-list-hierarchical-xs cn–idx-4 cn-zoneadcontainer">
Friday was no different as cartoonists from around the world attempted to graphically interpret the deaths of over 80 people after a truck rammed into a crowd celebrating a national holiday in the French Riviera city of Nice.
In November after the attacks in Paris,
Brazilian cartoonist Carlos Latuff,
who describes himself on Twitter as a "visual chronicler of barbarism," had drawn a bleeding French Tricoloure with four dead bodies beneath it.
Latuff was quickly back to work after events in southern France, depicting a child holding the hand of a victim in a body bag.
The vivid red in the French Tricoloure was used by many other cartoonists, notably John Meija, who had that color in the flag bleeding along the Promenade des Anglais, which lies next to the Mediterranean.
Read more: http://www.cnn.com/2016/07/15/europe/nice-attack-cartoons/index.html