The anxieties of Vietnam and Reagan found expression in horror films so now that America has a truly scary candidate, who can sum up the countrys fear?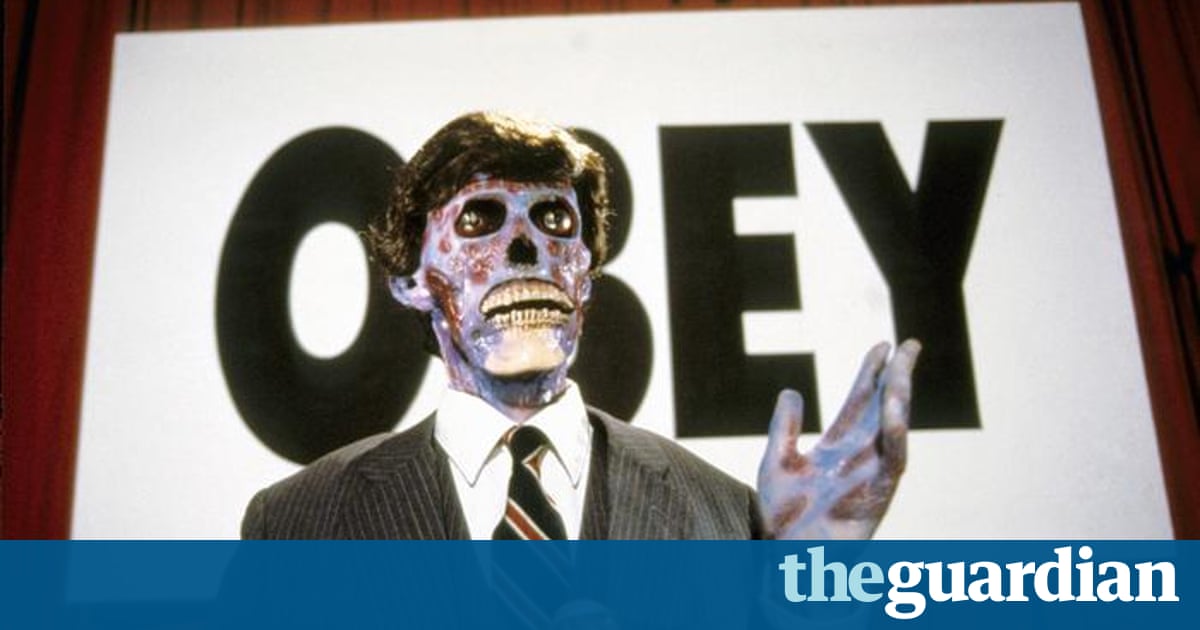 A noxious reality TV star is a mainstream political partys candidate for president, running on a platform of prideful ignorance and alarmist bravado. Voters have been sold on the logic of punishing the American government for toadying up to the rich by voting directly for the rich.
A much larger proportion of the electorate is terrified of a Donald Trump presidency, of course. This alarm has led to protests of all kinds. One image circulated on Facebook depicts the Make America great again huckster as one of the mossy-colored, skull-exposed aliens from John Carpenters They Live. Below this monstrous caricature is a caption that will be familiar to fans of the horror film: OBEY.
This caricature, like Hillary Clintons address in San Diego, offers a small catharsis for those of us who find Trumps running for office to be a prolonged and baffling ordeal a serrated cornucopia of unchecked authoritarian aggression, most obviously embodied by his obsession with dictatorial regimes and attending hatred for non-white, non-male citizens as well as the press and judicial systems. (Imagine what the hypocritical Republican hate machine would say about a Democratwho praised Russian president Vladimir Putin.)
Trumps offenses are dependent on pop cultures short attention span, which encourages people to remember his visibility rather than its context. Trump is such a dangerous joke as a candidate that hes had to verbally testify to his presidential demeanor. Let that sink in for a moment. Hes involved in too many alleged frauds and lawsuits to count. His presidential campaign is a carnival act so chaotic and gross that even Republicans have had to make a show of their blanching. Even members of the NRA, an organization not exactly known for their tact and decency, have had to issue statements about Trumps lapse in taste regarding the Orlando shooting. Hes voiced no rationalideas about how to govern the United States, and his voters endorse this incoherence or, more precisely, this contempt for coherence as a badge of honor.
Trumps followers are blinkered by the quantitative mythology of TRUMP = SUCCESS as peddled by The Apprentice, and by the candidates White Power message, which grants them permission to feel superior to others again, after years of being threatened by an African American with the gall to fight for their right to affordable health care. The phenomenon of Trumps invincibility, greeted by the Republican establishments cowardly submission to him, is proof that desperate voters will buy anything.
And theres no way to reach someone who supports a candidate like Trump. Any appeals to their common and moral senses are met with decries of the liberal media, or of Clintons email controversy, which is worse in many peoples eyes than constitution-shattering demagoguery. Its like comparing a speeding ticket to a murder charge. But people enthralled with Trump wont hear anything other than the soundbites regurgitated to them in a loop, and this is the ultimate realization of a wall that does exist and thats been enlarged over the years between the Republicans and the Democrats, who arent occupying different planets so much as differing dimensions. This stifling of dialogue leads to an unrelieved, ever-humming hatred a bipartisan sense of futility.
Trumps campaign represents the evil of pop culture. The good of pop culture can be found in the way it collects free-floating anxieties and longings, repurposing them into narrative. Its weirdly comforting to see Trump outfitted as an alien monster, as it indicates that whoever shares that image on Facebook lives in the same world as others whove been kept up at night by the anti-humanism thats inherent to Trumps political ascension. But that monster belongs to another decade.
They Live was released in 1988, following a couple of likeably macho salt of the earth types (played by Roddy Piper and Keith David) as they discover that the upper class of society are alien monsters lulling us into a stupor with pop culture, exploiting us and polluting our planet while living the high life. Change the size of the TV sets, gingerly sprinkle the phrase 1% into the dialogue, digitally insert cell phones into the characters hands, have a few extras snapping selfies in the background and They Livecould pass as a story of the present day.
They Live riffs on consumer culture, the realization that Reagans deregulating economic policies didnt trickle down so far after all. In the film, the alien hotshots scuttle the streets in their business suits, waited on by human vendors as people sleep in fields, begging for work. Carpenter visually links the 1980s to the Great Depression of the 1930s, lingering on shanty towns as his synth score provides an aura of disenchantment. Formally, They Live exudes a contemptuous tossed-off quality, as if the points the film is making are so obvious that it shouldnt break a sweat making them. Most important is its cumulative attitude, a cynical grace which is unmistakably Carpenters.
Throughout They Live, Carpenter manages a becoming empathy for people who presumably voted for Reagan, and who might by extension vote for Trump, despite the films left-of-center anger with commercialism and imbalanced opportunity. Pipers out-of-work tradesman says early on that he believes in America, feeling that if he keeps his nose clean and plays by the rules, then things will work out. Its the lapse of this belief that leads to the anger that can spur support of someone like Trump, which might spring from an urge to burn everything down by knowingly electing a tyro-maniac. The online cartoon seeks to refresh this parallel, reminding voters that their protest support for Trump bolsters the elite they rightly blame for their stagnant lives.