<figure class="media-landscape" has-caption full-width lead">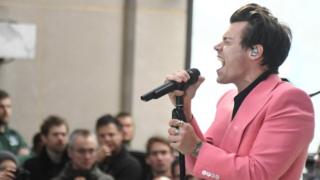 Image copyright Getty Images

Image caption The album is themed around the colour pink, in a nod to The Clash's Paul Simonon, who said: "Pink is the only true rock and roll colour."
"I wanted to see if I could write something that people liked, without knowing everything about me," says Harry Styles in a documentary about the making of his first solo record.
Of course, the number of people who are unfamiliar with former One Direction heartthrob and paparazzi magnet Harold Edward Styles, are few and far between – but in accordance with boy band tradition, he's wiped the slate clean for his solo debut.
The first single, Sign of the Times, is a billowing rock ballad about a woman dying during childbirth (yes, really), adorned with blazing guitar solos and a choir singing from the gates of heaven.
Stylophiles will know it's the sort of song he's wanted to make for years – having worked with Snow Patrol's Gary Lightbody as far back as 2013 – but there's always a delicate balance between establishing your musical credentials and subliminally telling fans, "That pop music? The stuff that soundtracked your life? I thought it was naff."
So far he's gotten away with it. Sign of the Times went to number one and his self-titled album will undoubtedly punch an Ed Sheeran-sized hole in the charts next week. But the real test is whether those songs will stick around the week after that, and the week after that.
<div id="bbccom_mpu_1_2_3″ class="bbccom_slot" mpu-ad" aria-hidden="true">