IDAHO FALLS, Idaho ― It's a lonely feeling being a progressive in the deep red state of Idaho, but Amy Pratt is finally ready to channel her frustrations into taking action she believes can improve the lives of her fellow Gem State residents.
In a state that's been run by
Republicans
since the 1990s and that hasn't gone for a Democratic presidential candidate since President Lyndon Johnson's landslide win in 1964, Idahoans like Pratt are tired of feeling ignored ― and they're banding together in living rooms and libraries and Facebook groups across the state.
The activists are focusing on an issue they think can bring Idahoans together: skirting their GOP-led legislature to make Idaho the next state to adopt Obamacare's Medicaid expansion.
"My entire life, I've been watching the lack of care for people," said Pratt, a 47-year-old bus driver. In her view, the state's political leaders put money "in their own pockets for everything, and I have been waiting for a revolution, of a sort.
She spent the cold winter weekends knocking on doors in her conversative hometown of Idaho Falls trying to persuade her neighbors to play a small part in that revolution.
Pratt is a volunteer for Reclaim Idaho, a tiny grassroots operation with a single paid employee and a mission to give Idahoans an opportunity to vote on a ballot initiative in November's elections to expand Medicaid to working adults.
<
blockquote class="content-list-component" js-sparkle pull-quote sparkle–slide-up"> To have hope, victory doesn't have to be certain. It doesn't even have to be probable. To have hope, victory just has to be possible. Luke Mayville, Reclaim Idaho
From March 11-13, HuffPost traveled across southern Idaho along the path of the Snake River from Idaho Falls to Boise with stops in between in Pocatello and Twin Falls.
In those southern Idaho towns, organizers, volunteers and first-time political candidates got together to carry out an ambitious quest to overrule the elected Republicans who run the state and haven't taken action to help the uninsured.
The very fact that this campaign exists is evidence that Idaho's government isn't working the way it should, said Pat Tucker, who is trying her hand at elected politics by running for a local state House seat. "People are frustrated," she said. "People are feeling personally the consequences of not being represented, of not being heard, in their own lives."
Deep frustration
These activists, most of them new to politics, spoke of being inspired by the opportunity to make positive change in their communities. Some spoke of being driven to act by the election of President Donald Trump. But they all lamented the feeling that their government doesn't care what they want.
Like liberal activists mobilizing around the country on a variety of issues, taking action is making these Idaho volunteers feel less alone and more empowered.
"I didn't think most of us realize how many out there feel the same way, and I found that knocking on doors," Pratt said. "I hope this spurs more throughout the state, I hope this spurs more throughout the country."
An estimated 78,000 uninsured people would be eligible for health coverage if Idaho, one of the 18 states that hasn't opted into the Medicaid expansion, accepted federal dollars available through the Affordable Care Act to participate.
Nine percent of Idahoans lack health coverage, the same as the national uninsured rate. For 18 years before getting a new job in 2017, Pratt was one of them. "I can go out there and sell this. I can go out there from experience," she said. "The fact is, everybody knows somebody who falls into the gap, and everybody has a story like this.".
Luke Mayville and Garrett Strizich, both 32, natives of Sandpoint in the far north of Idaho, founded Reclaim Idaho last year because they believe state legislators are out of touch with what their constituents actually want.
The GOP rules Idaho
Idaho has an unusual relationship with the Affordable Care Act.
The state hasn't taken up the Medicaid expansion and recently tried to allow health insurance companies to sell policies that ignore key aspects of Obamacare, chiefly its ban on charging higher premiums to people with preexisting conditions.
All of those obstacles doesn't mean Mayville and Strizich are crazy for trying to make Idaho the latest state to take up the Medicaid expansion, which would make health benefits available to anyone earning up to 133 percent of the federal poverty level (for a single person, the 133 percent figure is about $16,000).
According to a survey conducted by Boise State University in December, 71 percent of Idahoans support closing the so-called Medicaid gap, with just 22 percent opposing.
The gap refers to a quirk in how the Affordable Care Act was implemented. As written, the law envisioned a nationwide Medicaid expansion for those under 133 percent of poverty, and also made tax credits available to people whose incomes are above the poverty level, which is about $12,000 for a single person.
But the U.S. Supreme Court ruled in 2012 that states could opt out of the Medicaid expansion, leaving those with incomes between those two thresholds with no source of coverage. In states like Idaho, they're effectively too poor for Obamacare.
Pratt was one of about 20 volunteers who got together for a meeting in Idaho Falls March 11 that transitioned into a celebration complete with guitar and banjo players. They gathered at a restored early 20th century house that Tucker, its owner, converted into a children's art gallery to honor her daughter, Cady, who died in 2002 at 11 years old in car crash in neighboring Montana.
Local elections, mostly for bonds and levies to fund schools, were coming on March 13, and Reclaim Idaho planned its biggest one-day effort to date. Mayville said the goal was to collect 10,000 signatures on Election Day.
As the evening wound down, the crowd heard from Mayville, who traveled back to Idaho with his wife, Elena Mayville, from their home in New York City. (The couple is planning to relocate to Idaho permanently this year.)
"There's one thing that they really underestimated when people were skeptical of this campaign ― and this is something that we saw early on. They underestimated how much hope people have all over this state," Luke Mayville said. "To have hope, victory doesn't have to be certain. It doesn't even have to be probable. To have hope, victory just has to be possible, and it has to be a victory that's worth fighting for."
Meeting for coffee and activism
Smaller gatherings on March 12 at Pocatello's bohemian Bru House Galilei coffee house in the shadow of a vast mountain range and at a private home in a quiet Twin Falls neighborhood brought out handfuls of activists making plans for Election Day. Volunteers laid out cookies and crudités and talked strategy.
In Pocatello, a gathering was held at the home of Medicaid campaign volunteer Chris Stevens, a retired school teacher who's also mounting her first-ever political campaign by running for Bannock County Commission. In Twin Falls, Democratic state Senate candidate Deborah Silver, who lost a state Senate race in 2016 and the state treasurer race in 2014, hosted a meeting in her home.
On March 13 in Boise and its suburbs, volunteers met in coffee shops to check in, collect materials and share stories. Aaron Swisher, one of two Democrats vying to challenge U.S. Rep. Mike Simpson (R) this November, stopped by to lend support. It's Swisher's first political campaign.
The obstacles to success are real, and not just because of Idaho's conservative political base.
The state doesn't have a history of successful ballot initiatives and referenda. In order to get Medicaid expansion on the ballot, Reclaim Idaho has to get 56,000 signatures, which would meet the threshold of 6 percent of the state's registered voters. But under the law, they have to meet the same 6 percent threshold in 18 of Idaho's 35 state legislative districts. They have until May 1 to submit their petitions.
That means they have to campaign in the reddest parts of Idaho. It also means they have to spread out across a state that's the 14th largest by area and sixth-least dense by population. At least the Medicaid Mobile, which broke down during a stop in Hailey last month, is up and running again.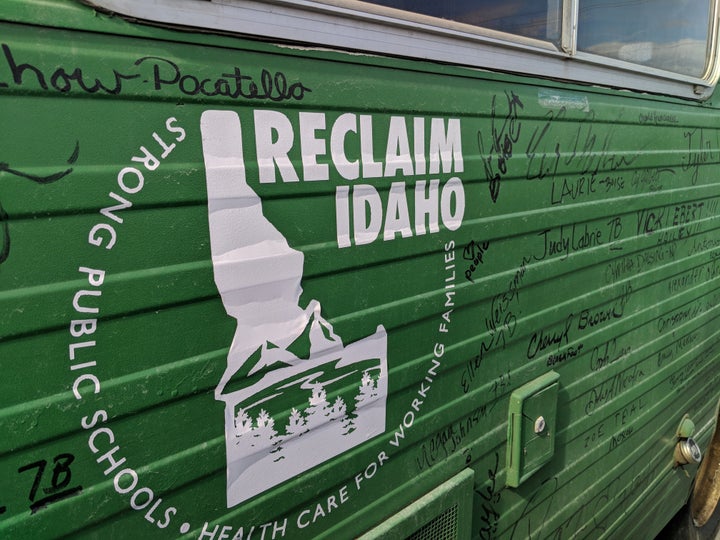 <
div class="content-list-component" bn-content-list-text yr-content-list-text text">
Disappointment, with a side of optimism