An increasing number of concerts are being performed in the dark, with the aim of encouraging audiences to listen to music in a new way or drift off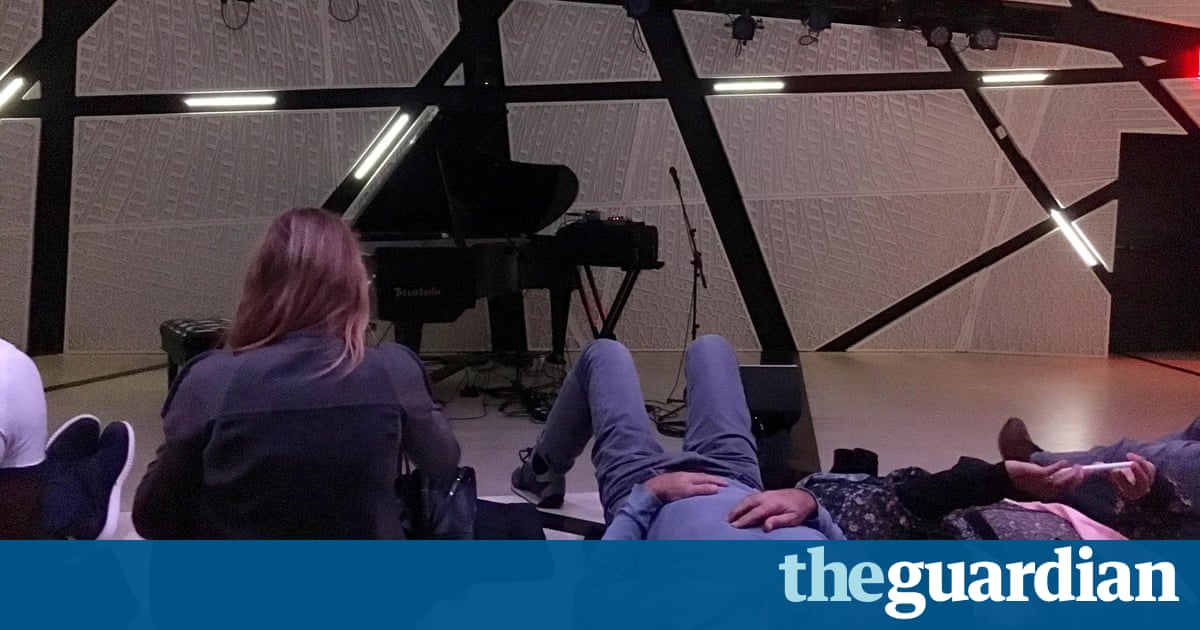 Its just after 7pm on Thursday in Williamsburg, Brooklyn, a time when restaurants and bars are just starting to buzz with activity. But inside the National Sawdust arts space, audience members are stretching out on pillows and cushions, forming two long rows. The lights go out. Antiphonal volleys of snoring become audible. It is just what the musicians had in mind.
Theo Bleckmann, the experimental, genre-hopping singer, and Shai Maestro, a jazz pianist, billed their concert as a kind of musical meditation, in which audience members should lie down, unplug, shut their eyes and immerse themselves in sounds, melodies and landscapes.
With the exception of several glowing red exit signs, lighting was completely extinguished and only the performers silhouettes could be seen. One patron in a grey suit shifted awkwardly and glanced at his phone, before pulling his knees to his chest and apparently succumbing to the conceit.
Sometimes we have to coerce or push the audience into a new experience, or in my case, it was an old experience, Bleckmann said in a phone interview. As a teenager, the German-born singer would lie on his bedroom floor and scrutinize jazz recordings. We dont listen to music sitting down, closing our eyes and really taking in the music any more. Were doing other things were checking our phones, were watching TV. There are so many distractions.
The 75-minute sequence of airy, lushly textured songs, many of which featured Bleckmanns wordless vocalizations and live electronic processing, is the latest wrinkle of an ongoing trend: concerts in utter darkness. At a time when orchestras are adding video and staging effects to generate visual interest, performers from a range of art music traditions are nurturing an opposite impulse, taking the (literal) spotlight off themselves and focusing on their audiences inner needs.