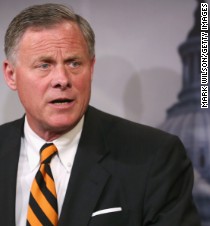 (CNN)Sen. Richard Burr privately mused over the weekend that gun owners may want to put a "bullseye" on Hillary Clinton, according to audio obtained by CNN.
The North Carolina Republican, locked in a tight race for reelection, quipped that as he walked into a gun shop "nothing made me feel better" than seeing a magazine about rifles "with a picture of Hillary Clinton on the front of it."
<
ul class="cn" cn-list-hierarchical-xs cn–idx-4 cn-zoneadcontainer">
"I was a little bit shocked at that — it didn't have a bullseye on it," he said Saturday to GOP volunteers, prompting laughter from the crowd in Mooresville, North Carolina. "But on the bottom right (of the magazine), it had everybody for federal office in this particular state that they should vote for. So let me assure you, there's an army of support out there right now for our candidates."
The comments resemble similar ones made by Donald Trump in August when the GOP nominee said "Second Amendment people" could take matters into their own hands if Clinton became president.
But unlike Trump, Burr is saying sorry.
"The comment I made was inappropriate, and I apologize for it," Burr, the Senate Intelligence Committee chairman, said in a Monday statement to CNN.
CNN has reached out to Clinton's campaign for comment.
A Burr campaign official said that the senator's remark about feeling "better" was in reference to other GOP candidates winning support from gun-rights groups — not from Clinton potentially being shot.
Burr, now in a heated contest against Democrat Deborah Ross in a race that could swing the Senate majority, threw red meat throughout the 45-minute talk, in an effort to fire up his supporters. He even said he would work to keep the ninth seat on the Supreme Court vacant if Clinton becomes president.
He also boasted that he's the one who helped initiate the Clinton email investigation and claimed that the FBI's review of more Clinton emails would help down-ticket Republicans.
Burr added that he believes the new FBI inquiry would show that someone on Clinton's team, or potentially Clinton, was lying under oath.
"Could she pardon herself? And the answer is yes," Burr said on the prospects of Clinton getting indicted after winning the election, though that's legally off-limits once in the White House.
But he also bluntly said that if Clinton is elected, he will do everything in his power to deny her the right to fill the vacant Supreme Court slot, aligning himself with Texas Sen. Ted Cruz's position on the issue.
"Well, my answer to you would be it isn't going to happen — period," Burr said when asked about the prospects of President Barack Obama's nominee, Merrick Garland, being confirmed in the lame-duck session of Congress.
Burr added: "And if Hillary Clinton becomes president, I am going to do everything I can do to make sure four years from now, we still got an opening on the Supreme Court."
Burr boasted that he is responsible for the "longest judicial vacancy in history" by denying the confirmation of an Obama judge to serve in the eastern district of North Carolina.
In his remarks, Burr reiterated his criticism of Trump's vulgar remarks about women that were caught on a hot mic. But he rationalized his support for Trump by saying that the GOP nominee "aligns perfectly with where the Republican Party is" on the issues. And he said that Trump deserves some flexibility to make mistakes.
"So I think it's really, really important that when you get somebody that aligns with you politically, that you give them the freedom to determine how they change as an individual," Burr said.
His continued support of Trump was not unnoticed.
"I want to thank him for being a strong supporter of Mr. Trump," someone in the room said of Burr, according to the audio. "I appreciate his loyalty."
Read more: http://www.cnn.com/2016/10/31/politics/richard-burr-hillary-clinton-gun-owners/index.html