Bjrks performance was a standout but the day showcased a score of artists worthy of collaborating with her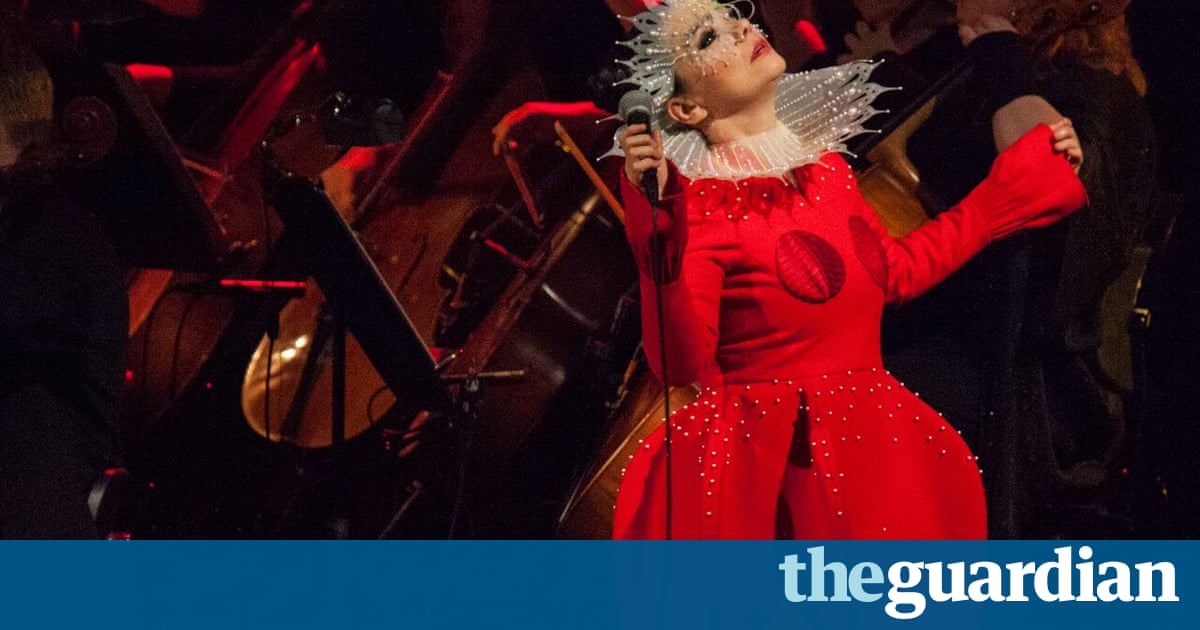 Iceland Airwaves may not have the A&R reputation of South by South West or CMJ, but it does offer as wide a variety of new music as any festival, both local and international (with an obvious focus on Icelandic and Scandinavian talent). And the bookers deserve a mention because theyve ensured that wherever you alight, at whichever of the dozen or so venues in town (with a couple on the outskirts), youre bound to find something of interest.
You could almost see it as a festival made in the image of the nations totemic individualist and experimentalist, Bjrk. Saturday is virtually a showcase for potential Bjrk collaborators. There is Bra Gsladttir, an Icelandic composer and double bassist who has performed with the Iceland Symphony Orchestra and isa member of the Swedish-Icelandic composers collective Errata. Her performance is both arthouse a woman sawing away at her instrument with little attention paid to such niceties as accessibility and melody and thrilling. She does to the double bass what Hendrix did to the electric guitar, using it to coax out thrillingly strange new sounds. There is a laptop, too, so its hard to ascertain precisely the provenance of all those faintly disturbing noises, but in one song alone they variously approximate the creak of a door in a haunted house and the wheeze of a pensioner gasping for breath.
Equally far out on the lunatic fringe is Hermigervill, a quirky, bearded gentleman who employs a mix of analogue gadgetry andcomputers. At one point he hovers his hand over what sounds like a Stylophone and, without actually touching it, gets it to play: think Uri Geller meets the Aphex Twin. But itsnot all novelty trickery. One of his songs, Thorparinn, is fantastic throbbing instrumental disco, a distant cousin of Spaces Magic Fly. When he invites onstage another bearded chap in an equally unflattering cable-knit jumper to sing over one of his tunes, its like attending a rave put on by two Open University professors from 1975. He ends his set with a track that is equal parts dub and technopop, like Yello stuck in a Swiss studio with King Tubby.
Bjrk would love surely love Kelsey Lu, an avant-cellist from North Carolina who has worked with Blood Orange, Kelela, Wet and Organized Noize. Her debut EP, Church, was recorded live in Brooklyns Holy Roman Catholic Church and she immediately creates a hushed, reverent atmosphere somewhere between a conservatoire and a cathedral. Sh estands on a fur rug and, in the crimson-tinged semi-darkness, uses her instrument, and a loop pedal, to create chamber pop backdrops for her gorgeous voice. She seems vulnerable and troubled, singing about broken promises standard pop-romance tropes, perhaps, but afforded a new potency in these startling contexts. She sings a song about her late grandmother who struggled with Alzheimers and, eavesdropping on this moment of private grief, it is unspeakably plaintive.
SG Lewis, a labelmate of Disclosure and Jessie Ware, is the perfect act for the midnight hour with his luscious dance music and (not a contradiction in terms, this) soulful, Auto-Tuned garage-pop. Theres a real live drummer, someone re-creating the warm sound of a Rhodes piano on a keyboard, and Lewis himself straps on a bass at one point for a set that gives commercial dance music a good name.
Gunnar Jnsson Collider blends ambient electronica and far-out drones, joining the dots between two different eras of psychedelic exploration. There are lots of people sitting down for his set, but its not all stoned abstraction for supine satisfaction. Flanked by a guitarist and drummer, he plays one song that is quite catchy in a shoegaze way.
In Valshllin, an aircraft hangar on the edge of town, Denmarks Emil Stabil and his hype man do their level best to whip up a sparse crowd. Their uniformly slow hip-hop reflects the pace of the American variety, and thats OK, but it would be nice, especially given the parlous state of the planet, to have some urgent radical rap right now produced by a 21st century Bomb Squad. Reykjaviks rija Hin, a five-man throwback who come onstage to LL Cool Js Mama Said Knock You Out, bring some cartoon energy to their performance.
To judge by the buzz on the bus to the venue, youd think Odd Future were about to break, not fast becoming a distant memory. Odd Future offshoot the Internet capitalise on that good feeling, preparing to party like its 2009 with their musicianly take on modern R&B machines are kept to a minimum, the jazzy chords and subtle rhythms courtesy of players who appear to worship at the altar of 70s and 80s soul, the pre- machine variety. With her semi-mohican and outsize workshirt, Syd tha Kyd subverts the soul lothario persona (Ego Death, the Internets latest album, is virtually a gay Lets Get It On), but her voice is as sweet as, say, Kelelas or indeed any of the new R&B starlets, from Tink to Tinashe.
Back at the Harpa concert hall, Lets Eat Grandma acquit themselves well before a big crowd, with their intimations of ritual and pagan strangeness. In their matching shiny black trouser suits with silver snake designs, they evoke the magic and mystery of childhood and remind you that, for primal reasons unknown, the sight of identical-looking young females standing together can be more than a little unsettling.
Epic Rain are a local seven-piece featuring harp, double bass and other instrumentation used in the service of their odd mixture of hip-hop, languid lounge noir and dark cabaret. Over spaghetti western-twangy guitar, their tattooed rapper, Bragi, sounds like Tom Waits doing an impression of Lee Van Cleef as sepia images of Iceland appear on the screen behind the stage. Female-fronted ethereal electronic R&B outfit Gangly suggest the xx (and the Weeknd, and James Blake) should be on some sort of commission points system.
Bjrk actually kicked things off on Saturday, at 5pm, with her show of two halves: one set of orchestrated reworkings of her 2015 album Vulnicura, and a second set of also-symphonic hits. For the first she wore a red puffy dress and matching shoes and headdress, but really the mood was blue, although Vulnicura is an autopsy of her relationship with Matthew Barney, so maybe the colour did make sense. This was non-electronic Bjrk, singing sweetly these sometimes sour scenes from a marriage, the alternately swelling and stabbing strings and weeping violins conjuring mournfulness and melodrama. It is to her credit that she managed to make Vulnicura her Blood on the Tracks if not her Berlin or Sister Lovers a viable commercial attraction, giving shape and order to the emotional tumult, to these snippets of words said in anger (You betrayed your own heart / corrupted that organ) and anguished cries about the destruction of a family. She created intimacy in an immense space. After the interval, the mood was lightened somewhat as Bjrk returned for renditions of Jga and Bachelorette, for which she wore what looked like an extraterrestrial burka. Of course she did.