The White House press secretary is aggressive, antagonistic and flustered. And, in the spotlight of live TV, he can appear to be channeling his pugnacious master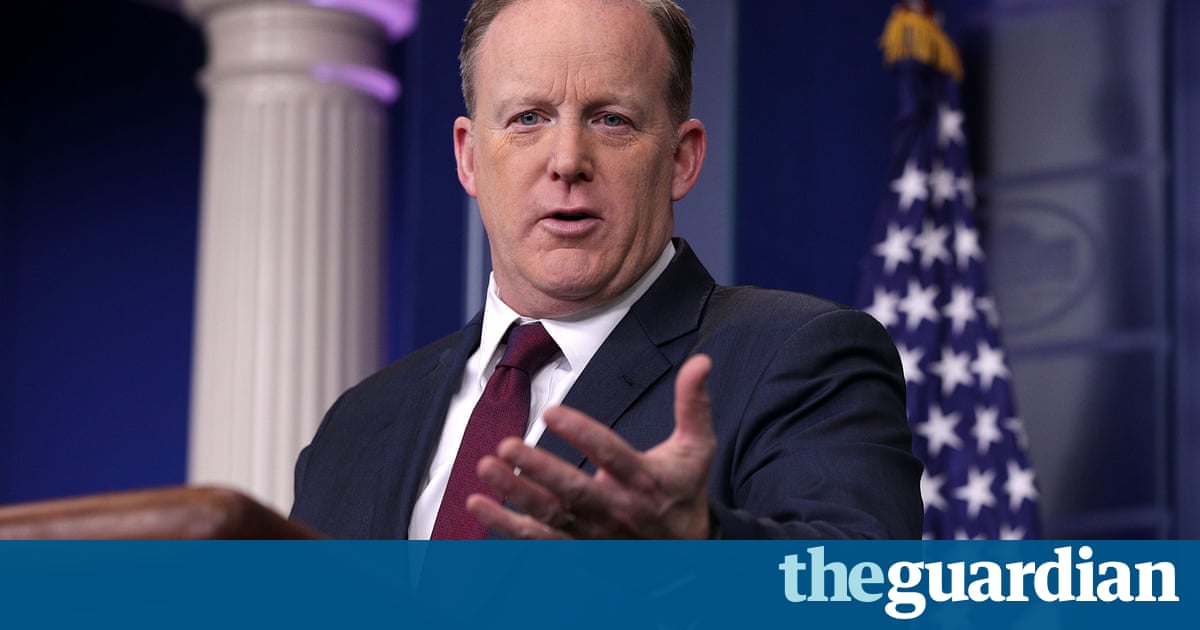 Every visitor says its smaller than they expected. The modest James S Brady Press Briefing Room at the White House fills with about a hundred journalists, half in the fixed seats, half standing in the aisles or at the back. Each lunchtime there is an expectant murmur, like a theatre audience before curtain up. TV reporters stand at the front, each speaking directly to camera and contriving to ignore the others standing inches away.
Seconds after they sign off, in walks the star of the show: Sean Spicer, the White House press secretary. The thickset 45-year-old will often begin with a genial pleasantry Hope everyone had a great weekend, seriously, he said last Monday that belies the vituperative fusillades set to follow. Many men and women have stood at the podium but there has never quite been anything like this for event television.
Sean Spicer has gone almost to a hundred days with standing room only and I find that many people stop me on the street and say, I saw you on Sean Spicer as if theyre saying, I saw you on Doctor Who, said John Gizzi, chief political correspondent at Newsmax, one of the conservative outlets now regularly called upon to ask questions.
This was a vintage week for viewers. On Tuesday, Spicer expressed his frustration by saying: If the president puts Russian salad dressing on his salad tonight, somehow thats a Russian connection. He also clashed with reporter April Ryan, admonishing: Please stop shaking your head a churlish comment that earned rebukes from Hillary Clinton and several journalists (Ryan herself tweeted: Lawd!!!!). The following day Spicer gave Ryan the opening question, perhaps in coded apology.
<figure class="element" element-video fig–has-shares fig–narrow-caption" data-canonical-url="https://www.theguardian.com/us-news/video/2017/mar/30/donald-trump-freedom-caucus-tweet-sean-spicer-video" data-short-url="https://gu.com/p/67tak" data-show-ads="true" data-video-id="3339839″ data-video-name="'Let" the tweet speak for itself': spicer on trump's freedom caucus attack video" data-video-provider="guardian.co.uk" data-component="video-inbody-embed">
Read more: https://www.theguardian.com/us-news/2017/apr/02/sean-spicer-donald-trump-press-secretary-briefings