OK, Im American. But the shows essential ingredients are the juxtaposition of professional standards and amateur determination, not the puns on frangipane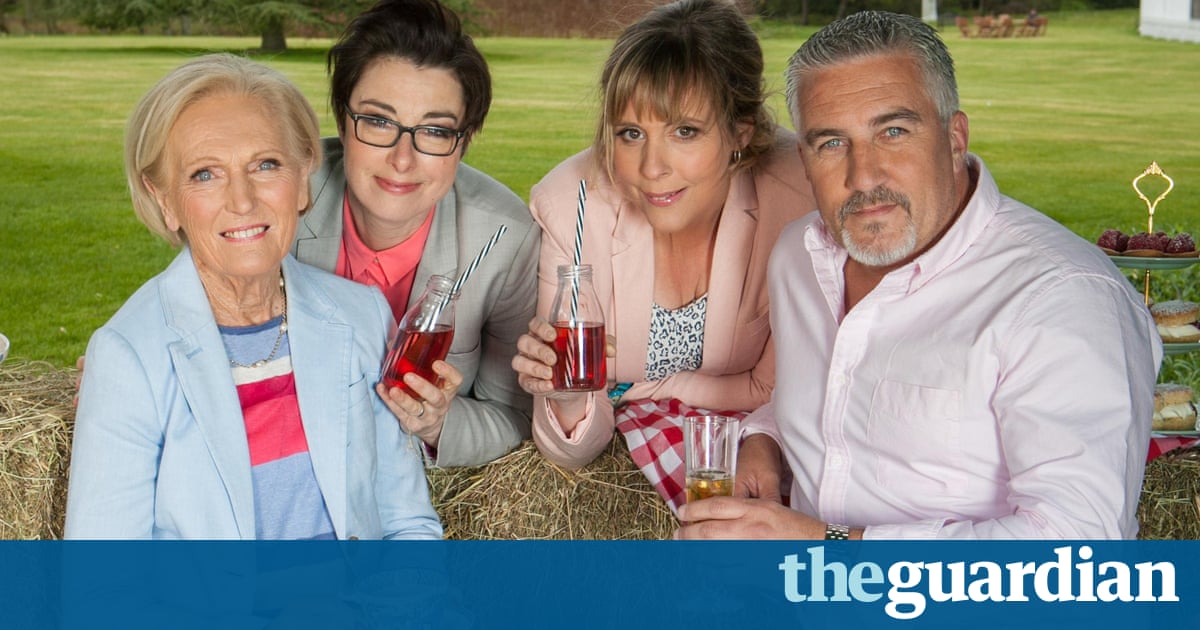 All the encomia to The Great British Bake Off, particularly during its moment of peril, are deserved. Last month, my wife and I vacationed with two other thirtysomething couples, and once all our children were asleep, we exhaustedly shotgunned episodes of the show until we floated off, gloriously relaxed, to bedtime. For an anxious world, the show is televised Lexapro, an idyll where ambition, creativity, competition and glory co-exists with warmth, generosity, fellowship and grace.
Now we are at risk of being unable to afford our medicine. The first casualties of Love Productions decision to defect to Channel 4 are beloved hosts Mel Giedroyc and Sue Perkins. Filled with dread at the prospect of a show without them, the internet has spasmed. Mel and Sue are so noble they <a href="https://twitter.com/kosmickris/status/394483108827136000″ data-link-name="in" body link" class="u-underline">utter torrents of profanity when bakers suffer their darkest moments, to ensure that the footage is unusable. They are the pair who serve us a slice of Victoria sponge when we need to carry on after a loss.
Brits, I am a stranger to your country, an outsider to your culture, a foreigner to your sentimentality. And as a native New Yorker I say: let Mel and Sue go.
The worst part of the Great British Bake Off, the curdle in the custard, is Mel and Sues insufferable puns. Well done, you can riff on schichttorte and frangipane. No English-speaker will have missed that the names of foreign desserts are exotic. You dont even have to speak English to understand that it is possible to change the register of ones voice comically when shouting the word bake.
Mel and Sue never miss an opportunity to incinerate a joke that needed, at best, half an hour in a proving drawer. No one would argue that a gentle reality show about baking needs experimental or even arch humor, but can it really be the case that these two are irreplaceable? Is that truly the state of British comedy of British culture?
OK, this is harsh. But now that the future of the Great British Bake Off is at a precipice, its time to distinguish ruthlessly what is essential about the show from whats merely familiar. The unique aspects of the show are these: the juxtaposition of professional standards and amateur determination; a spirit of solidarity among contestants; a directorial pacing that privileges suspense over conflict; a soothing pastoral setting; and an injection of pettiness from Paul Hollywood for tonal contrast. (Honestly, getting rid of Paul would probably benefit Bake Off, too.)
There is one immutable truth about the Great British Bake Off. Her name is Mary Berry. Everything the show tacitly argues about the compatibility of achievement and gentleness is embodied by Mary. Mary Berry is the shows Beyonc. Paul, Mel and Sue are the rest of Destinys Child. No one wishes them ill. But only if the show loses Mary will Channel 4 turn out to have paid 75m ($99m) for an empty tent.
These attributes mean the show can jettison Mel and Sue while retaining its identity. Should Love Productions insist on installing a subsequent punning duo, the revamped show will determine if Mel and Sue were, to use a baseball term, more than replacement-level players. Should it veer in a different direction maybe beloved former tent contestants co-hosting, as long as were fancasting? Bake-Off can be defined by eras, pre- and post-Mel and Sue, with the latter catering to those who prefer their cakes less heavily laced with innuendo.
In this manner, everyone can win well, everyone but Mel and Sue. The producers get a windfall of cash. Channel 4 gets a coup. The viewers get a beloved show. The contestants get an opportunity. The aggrieved who cling to tradition get to complain about how much better it all used to be. Hopefully, the non-British audience can finally get fuller access to the show here in the States were several seasons behind.
If Mel and Sue are casualties, the fanbases disgust at the shabbiness of the transition from the BBC will transform them into martyrs, too good for this world of filthy lucre. The truth of our age is thats an advantageous bit of branding for them to find their next lucrative entertainment position. On your marks, get set, flake.
Read more: https://www.theguardian.com/tv-and-radio/2016/sep/14/i-love-the-great-british-bake-off-not-mel-sue