The long read: Anaesthesia remains a mysterious and inexact science and thousands of patients still wake up on the operating table every year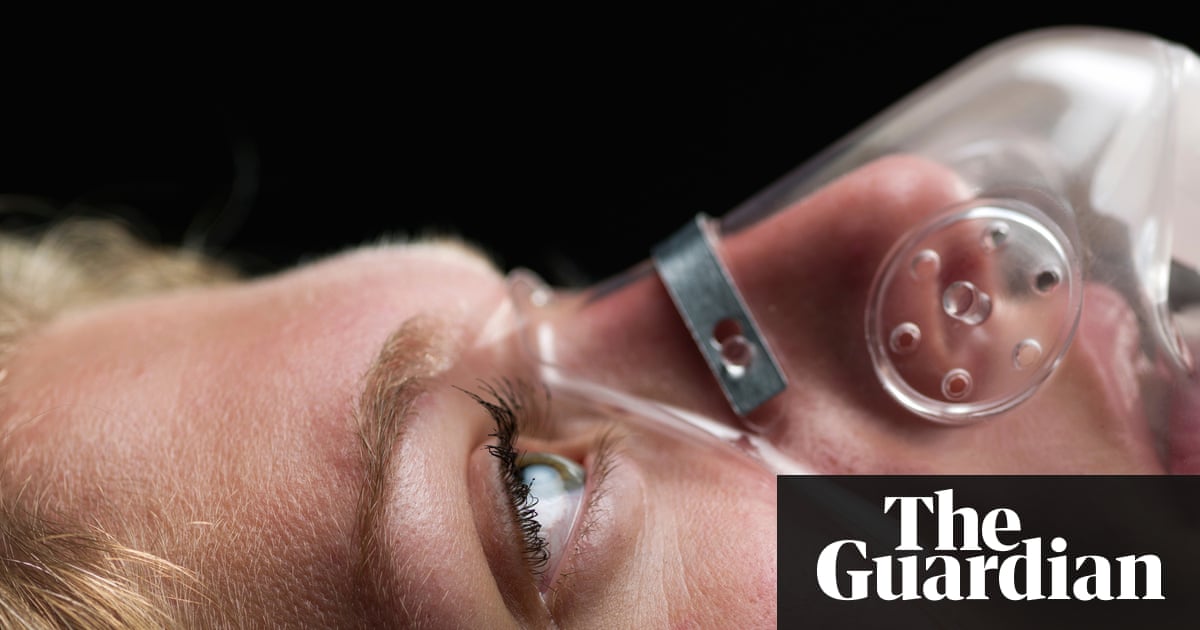 When Rachel Benmayor was admitted to hospital, eight and a half months pregnant, in 1990, her blood pressure had been alarmingly high and her doctor had told her to stay in bed and get as much rest as possible before the baby came. But her blood pressure kept rising this condition, known as pre-eclampsia, is not uncommon but can lead to sometimes-fatal complications and the doctors decided to induce the birth. When her cervix failed to dilate properly after 17 hours of labour, they decided instead to deliver the child by caesarean section under general anaesthetic. Rachel remembers being wheeled into the operating theatre. She remembers the mask, the gas. But then, as the surgeon made the first incision, she woke up.
I remember going on to the operating table, she told me. I remember an injection in my arm, and I remember the gas going over, and Glenn, my partner, and Sue, my midwife, standing beside me. And then I blacked out. And then the first thing I can remember is being conscious, basically, of pain. And being conscious of a sound that was loud and then echoed away. A rhythmical sound, almost like a ticking, or a tapping. And pain. I remember feeling a most incredible pressure on my belly, as though a truck was driving back and forth, back and forth across it.
A few months after the operation, someone explained to Rachel that when you open up the abdominal cavity, the air rushing on to the unprotected internal organs gives rise to a feeling of great pressure. But in that moment, lying there in surgery, she still had no idea what was happening. She thought she had been in a car accident. All I knew was that I could hear things and that I could feel the most terrible pain. I didnt know where I was. I didnt know I was having an operation. I was just conscious of the pain.
Every day, specialist doctors known as anaesthetists (or, in the US, anesthesiologists) put hundreds of thousands of people into chemical comas to enable other doctors to enter and alter our insides. Then they bring us back again. But quite how this daily extinction happens and un-happens remains uncertain. Researchers know that a general anaesthetic acts on the central nervous system reacting with the slick membranes of the nerve cells in the brain to suspend responses such as sight, touch and awareness. But they still cant agree on just what it is that happens in those areas of the brain, or which of the things that happen matter the most, or why they sometimes happen differently with different anaesthetics, or even on the manner a sunset? an eclipse? in which the human brain segues from conscious to not.
Nor, as it turns out, can anaesthetists accurately measure what it is they do.
For as long as doctors have been sending people under, they have been trying to fathom exactly how deep they have sent them. In the early days, this meant relying on signals from the body; later, on calculations based on the concentration in the blood of the various gases used. Recent years have seen the development of brain monitors that translate the brains electrical activity into a numeric scale a de facto consciousness meter. For all that, doctors still have no way of knowing for sure how deeply an individual patient is anaesthetised or even if that person is unconscious at all.
Anaesthetists have at their disposal a regularly changing array of mind-altering drugs some inhalable, some injectable, some short-acting, some long, some narcotic, some hallucinogenic which act in different and often uncertain ways on different parts of the brain. Some such as ether, nitrous oxide (better known as laughing gas) and, more recently, ketamine moonlight as party drugs. (If you have an inclination to travel, take the ether you go beyond the furthest star, wrote the American philosopher-poet Henry David Thoreau after inhaling the drug for the fitting of his false teeth.) Different anaesthetists mix up different combinations. Each has a favourite recipe. There is no standard dose.
Todays anaesthetic cocktails have three main elements: hypnotics designed to render you unconscious and keep you that way; analgesics to control pain; and, in many cases, a muscle relaxant (neuromuscular blockade) that prevents you from moving on the operating table. Hypnotics such as ether, nitrous oxide and their modern pharmaceutical equivalents are powerful drugs and not very discriminating. In blotting out consciousness, they can suppress not only the senses, but also the cardiovascular system: heart rate, blood pressure the bodys engine. When you take your old dog on its last journey, your vet will use an overdose of hypnotics to put him down. Every time you have a general anaesthetic, you take a trip towards death and back. The more hypnotics your doctor puts in, the longer you take to recover, and the more likely it is that something will go wrong. The less your doctor puts in, the more likely that you will wake. It is a balancing act, and anaesthetists are very good at it. But it doesnt alter the fact that for as long as anaesthetists have been putting them to sleep, patients have been waking during surgery.
---
As Rachels caesarean proceeded, she became aware of voices, though not of what was being said. She realised that she was not breathing, and started trying to inhale. I was just trying desperately to breathe, to breathe in. I realised that if I didnt breathe soon, I was going to die, she told me.
She didnt know there was a machine breathing for her. In the end I realised that I couldnt breathe, and that I should just let happen what was going to happen, so I stopped fighting it. By now, however, she was in panic. I couldnt cope with the pain. It seemed to be going on and on and on, and I didnt know what it was. Then she started hearing the voices again. And this time she could understand them. I could hear them talking about things about people, what they did on the weekend, and then I could hear them saying, Oh look, here she is, here the baby is, and things like that, and I realised then that I was conscious during the operation. I tried to start letting them know at that point. I tried moving, and I realised that I was totally and completely paralysed.
The chances of this happening to you or me are remote and, with advances in monitoring equipment, considerably more remote than 25 years ago. Figures vary (sometimes wildly, depending in part on how they are gathered) but big American and European studies using structured post-operative interviews have shown that one to two patients in 1,000 report waking under anaesthesia. More, it seems, in China. More again in Spain. Twenty to forty thousand people are estimated to remember waking each year in the US alone. Of these, only a small proportion are likely to feel pain, let alone the sort of agonies described above. But the impact can be devastating.
For Rachel, sleepless and terrified in her hospital room, it was the beginning of years of nightmares, panic attacks and psychiatric therapy. Soon after she gave birth, her blood pressure soared. I was in a hell of a state, she told me.
For weeks after she returned home, she would have panic attacks during which she felt she couldnt breathe. Although she says the hospital acknowledged the mistake and the superintendent apologised to her, beyond that she does not recall getting any help from the institution no explanation or counselling or offer of compensation. It did not occur to her to ask.
Things can go wrong. Equipment can fail a faulty monitor, a leaking tube. Certain operations caesareans, heart and trauma surgery require relatively light anaesthetics, and there the risk is increased as much as tenfold. One study in the 1980s found that close to half of those interviewed after trauma surgery remembered parts of the operation, although these days, with better drugs and monitoring, the figure for high-risk surgery is generally estimated at closer to one in 100. Certain types of anaesthetics (those delivered into your bloodstream, rather than those you inhale) raise the risk if used alone. Certain types of people, too, are more likely to wake during surgery: women, fat people, redheads; drug abusers, particularly if they dont mention their history. Children wake far more often than adults, but dont seem to be as concerned about it (or perhaps are less likely to discuss it). Some people may simply have a genetic predisposition to awareness. Human error plays a part.
But even without all this, anaesthesia remains an inexact science. An amount that will put one robust young man out cold will leave another still chatting to surgeons. More than a decade ago, I found this quote in an introductory anaesthesia paper on a University of Sydney website: There is no way that we can be sure that a given patient is asleep, particularly once they are paralysed and cannot move.
Last time I searched, the paper had been adjusted slightly to acknowledge recent advances in brain monitoring, but the message remained the same: just because a person appears to be unconscious, it does not mean they are.
In a way, continued the original version of the paper, the art of anaesthesia is a sophisticated form of guesswork. It really is art more than science We try to give the right doses of the right drugs and hope the patient is unconscious.
The death rate from general anaesthesia has dropped in the past 30 years, from about one in 20,000 to one or two in 200,000; and the incidence of awareness from one or two cases per 100 to one or two per 1,000. Obviously we give anaesthetics and weve got very good control over it, a senior anaesthetist told me, but in real philosophical and physiological terms, we dont know how anaesthesia works.
---
It is perhaps the most brilliant and baffling gift of modern medicine: the disappearing act that enables doctors and dentists to carry out surgery and other procedures that would otherwise be impossibly, often fatally, painful.
The term anaesthesia was appropriated from the Greek by New England physician and poet Oliver Wendell Holmes in 1846, to describe the effect of the drug ether following its first successful public demonstration in surgery. Anaesthetise: to render insensible. These days there are other sorts of anaesthetics that can numb a tooth or a torso, simply (or unsimply) by switching off the nerves in the relevant part of the body. But the most widespread and intriguing application of this skill is what is now known as general anaesthesia.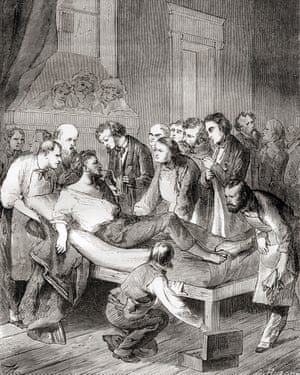 Read more: https://www.theguardian.com/news/2018/feb/09/i-could-hear-things-and-i-could-feel-terrible-pain-when-anaesthesia-fails