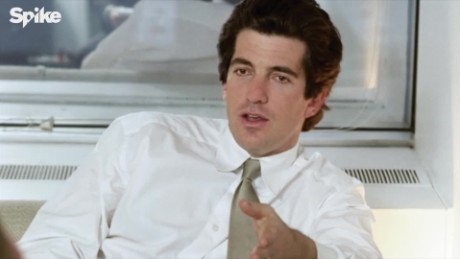 Los Angeles (CNN)For most of us, our knowledge of John F. Kennedy Jr. is bookended — and defined — by two tragedies: there is the image of him saluting his slain father, and then there is his own tragic death in 1999 at age 38. A new documentary, "I Am JFK Jr.," does an admirable job of puttying in the gap between those events.
This slick, at times emotional documentary — which premieres Monday on Spike TV — offers a sympathetic portrait of a man who gracefully shouldered the massive expectations he bore as a birthright. In a way, the worst thing about "I Am JFK Jr." is its branded title, which implies a confessional tone that runs counter to the way its subject lived.
Directed by Derik Murray (who is responsible for a string of "I Am" documentary biographies, devoted to subjects like Chris Farley and Evel Knievel), "I Am JFK Jr." would be poignant strictly for the video that it features, showing the young John toddling around the White House, famously playing underneath his father's desk in the Oval Office, or running around otherwise stately affairs in short pants.
<
ul class="cn" cn-list-hierarchical-xs cn–idx-4 cn-zoneadcontainer">
Born on Thanksgiving in 1960 — weeks after his father was elected — he came of age as American royalty, with all the privileges that entailed and costs it exacted.
Labeled the "sexiest man alive" by People magazine, Kennedy was a "serial monogamist," friends say, who faced a "barrage of other opportunities." His personal magnetism was such that both men and women "threw themselves at him," as CNN's Christiane Amanpour recalls in the film; and he received oppressive attention from the tabloids, which he dealt with far more comfortably than did his eventual wife, Carolyn Bessette.
Perhaps foremost, the documentary explores how Kennedy sought to carve out his own identity — firstresisting the "huge gravitational pull toward politics," as former roommate Chris Oberbeck describes it, andeventually by launching George magazine.
Murray zeroes in on Kennedy's relationship with his mother, Jacqueline, who sought to shield her children from the public eye. Friends note that while he bore the Kennedy name, he was temperamentally much closer to the Bouvier side of his lineage.
Throughout, there's a heartbreaking sense of unfulfilled promise, magnified by the inordinate tragedy that has befallen the Kennedy clan.
The movie offers testimonials from an eclectic mix of friends, acquaintances and observers, including CNN's Chris Cuomo, Paul Begala and Amanpour; Robert De Niro; and fellow presidential heir Michael Reagan. (Begala, the former Clinton administration aide, tells a highly amusing story about Kennedy sending him an email during the height of the Monica Lewinsky scandal, reminding him that he had experience being under the president's desk, albeit decades earlier.)
Cuomo says Kennedy was destined for a greatness that he didn't live long enough to fully deliver, a recurring theme regarding the family. In this case, it's driven home by those images of a little boy who would live under an unwavering spotlight over the course of a life that became all too brief.
"I Am JFK Jr." premieres Aug. 1 at 9 p.m. on Spike.
Read more: http://www.cnn.com/2016/07/30/entertainment/i-am-jfk-jr-documentary-review/index.html