<figure class="media-landscape" has-caption full-width lead">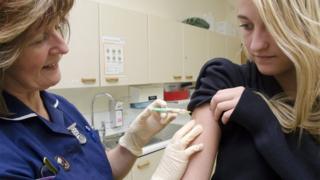 Image copyright DR P. MARAZZI/SCIENCE PHOTO LIBRARY

Image caption The current HPV vaccine is given in two doses
Women vaccinated against human papilloma virus (HPV) – thought to cause about 99% of cervical cancers – may only need three smear tests in their lifetime, a new study suggests.
Since 2008, the HPV vaccine has been offered to girls aged 11 to 13.
Reported cases of HPV have fallen sharply since then.
A team from Queen Mary University of London found that screenings at age 30, 40 and 55 would offer the same benefit to these young women as the current 12.
Prof Peter Sasieni, the lead author of the study, said cutting the number of smear tests for vaccinated women would make sense and save money.
<div id="bbccom_mpu_1_2_3″ class="bbccom_slot" mpu-ad" aria-hidden="true">