The racially charged demonstrations over Dylan Nobles death sparked outrage online but friends of the unarmed teen shot by police say they only want justice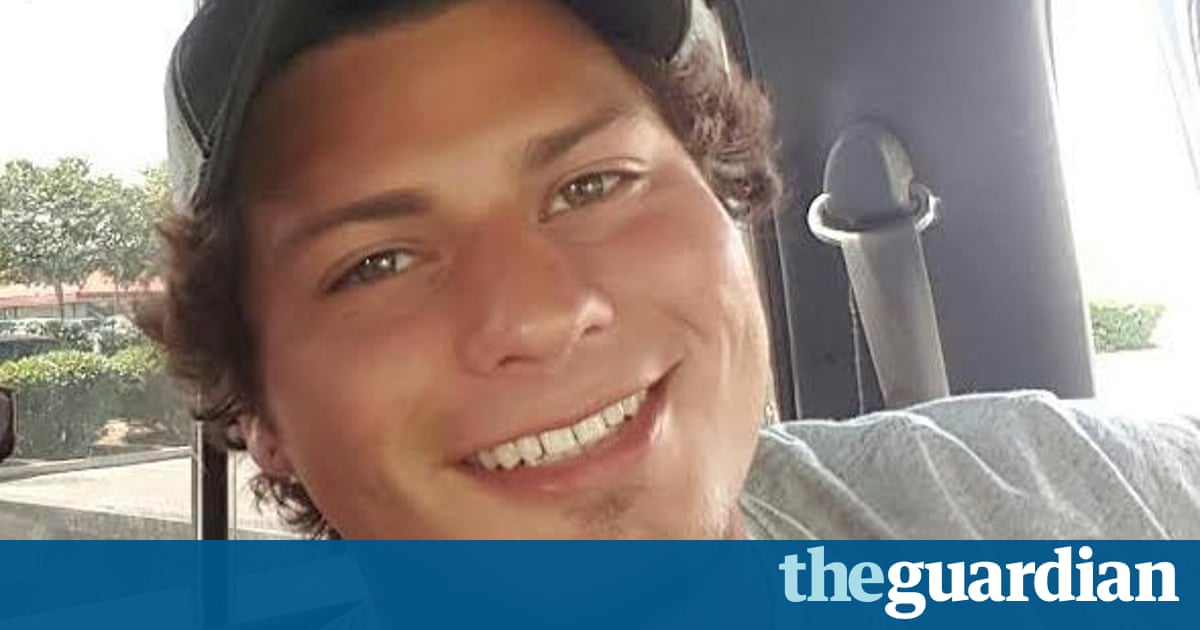 Brandon Lindlahr laid down on the ground by a Chevron gas station in Fresno, California, and fell asleep on top of the bloodstained pavement where police fatally shot his unarmed friend.
It was Monday night, two days after the 18-year-olds friend, Dylan Noble, was killed by police during a traffic stop.
Since Nobles death on Saturday afternoon, Lindlahr and dozens of other friends have spent their nights hanging out by a Fast N Esy convenience store and gas station where theyve set up a memorial of candles, American flags, and empty Coors Light cans.
Lindlahr said they also poured beers on top of the blood-soaked ground in hopes of washing away the painful reminder of Nobles violent death. A dark blotch remains where the young man fell.
Well be here every night until we get our justice, he said.
Noble, 19, is one of more than 500 people who have been killed by US law enforcement in 2016. His is one of the few cases to receive international attention but not for the reasons that police killings of unarmed adolescents typically make headlines.
In a standoff with Fresno officers at an emotional vigil Sunday night, friends of Noble, who was white, and other critics of the police department took to the streets, some carrying a Confederate flag and others promoting a White Lives Matter sign.
The message was an appropriation of Black Lives Matter, the civil rights movement that emerged in response to the killings of African Americans, and the Fresno protest was swiftly mocked as racist and offensive on social media and in news reports.
But in the sweltering heat of this suburban city in the Central Valley of California, 200 miles south-east of San Francisco, Nobles friends say the mainstream media and others deriding their protests have deeply misunderstood their way of life and message.
I still dont believe it
The intense controversy over the White Lives Matter statement has distracted from the serious questions surrounding the circumstances of Nobles killing.
Fresno police say that at 3.20pm on Saturday, officers were investigating reports of a man walking in the area with a rifle when they spotted Nobles pickup truck speeding by. After Noble pulled over at the Chevron gas station, he refused to show his hands to the officers as he exited, police said in a statement.
The driver then turned towards officers with one hand concealed behind his back, and told officers he hated his life.