In 2001 a small group brought a mixed martial arts organization for $2m. Today it is a global brand and there is still room to grow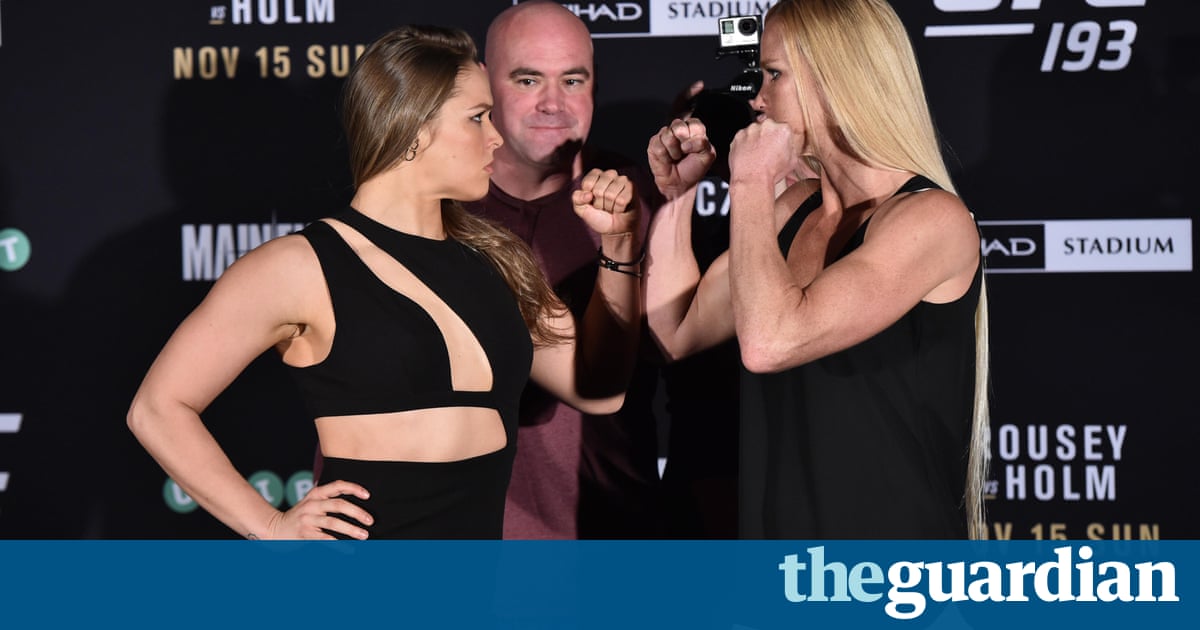 The architects who built mixed martial arts into a globally popular sport have ceded control of the Ultimate Fighting Championship. An official release announcing a $4bn sale of the UFC to a group led by talent agency WME-IMG was made on Monday morning.
It is confirmation that the current ownership group accomplished what they set out to do: mold brawling combat into a vastly lucrative 21st century sport. This sale is proof, if any was needed, that the organization is now firmly in the mainstream.
Las Vegas casino magnate brothers Lorenzo Fertitta and Frank Fertitta III, along with their brother-in-law Blake Sortini, purchased the assets of the UFC in January 2001 for $2m. Former fighter manager Dana White was named president and ran the day-to-day business.
Fifteen years later, the contrast is striking. On Saturday, the leagues 200th big-ticket event attracted more than 18,000 fans to the T-Mobile Arena in the UFCs hometown of Las Vegas; the take from ticket sales alone was $10.8m.
Its hard to say what the finances and potential upside for WME-IMG look like UFC is privately held except to say that its TV deal with Fox can only get more lucrative, said Brandon Ross, an analyst who covers the business for financial services firm BTIG. Since the time that they signed the deal with Fox the sport has become much more popular and a bigger part of the zeitgeist, Ross said. People actually talk about UFC at work now, which is not something people did a couple of years ago. You have to think there are going to be some nice step-ups in those television deals that will result in growth.
With the caveat that the UFC is often criticized by fighters themselves, such as Matt Mitrione, for the vast disparities in its pay scale, it is popular enough that top talent are now able to command high payouts, too: Brock Lesnar took home a reported $2.5m for Saturdays fight.
So, how did UFC transform itself? Under the stewardship of Zuffa LLC, named for an Italian word that translates to scrap or fight, UFC shoved its way out of the shadows. In doing so, Zuffa carved out a successful and unique business model for the UFC, but with that success, it has had to leave some of its founders behind.
This is not a spectacle, Lorenzo Fertitta said in 2001, in one of his earliest interviews as the head of the UFC. This is a sport. Now, what that means is that we need to focus on the fighters. A much as I love the UFC and essentially what I bought was those three letters and that logo I understand that its not necessarily just about the UFC but about the athletes.
With investment from the Fertittas to rebrand and lay the foundation for UFCs growth, the notorious and limping cage-fighting company soon forged past negative media attention focused on the bloody violence in the Octagon and political opposition from states like New York, which banned the UFC outright until earlier this year, and figures like Senator John McCain, who likened the action to human cockfighting and advocated to have it banned from cable television.
By 2016, UFC had grown palatable enough among sports fans to set the record for the most expensive sale of an organization in sports history. Every state in the US has adopted some policy towards mixed martial arts regulation. That legitimacy is a function of Zuffas lobbying, and its hiring of Marc Ratner from the Nevada State Athletic Commission to lead the regulatory charge. The breakthrough in Nevada in 2001 was key to returning the UFC to cable pay-per-view, which helped convince sponsors and corporate America that its product was fit for mass audiences.
Other innovations, such as the wildly popular Ultimate Fighter, a reality TV series that followed contenders attempts to win a UFC contract, pushed the organization further into the mainstream. UFC has also won acclaim for its determination to give its female stars equal billing with their male counterparts: Ronda Rousey, for example, is arguably as big a draw as fellow fighter Conor McGregor.
And then there is the audience. UFC fights draw a loyal and young audience that purchases hundreds of millions of dollars on pay-per-view per year and are attractive to advertisers. A heavily millennial demographic helped solidify MMAs growth, not just in the US but around the globe. And it is this group that WME-IMG which also represents Rousey and its partners hope to reach through UFC content. The appeal to traditional media companies was strong enough that one of the contenders for the company was the Dalian Wanda group, the Chinese consortium that recently purchased the film studio behind the Batman and Pacific Rim films, Legendary Entertainment.
A report from Moodys Investors Service affirmed the value of the companys potential for international expansion. We believe that one of Zuffas biggest growth opportunities is in international markets, where MMA has some of its strongest followers including in Japan, Brazil, and other Latin American and western European countries, wrote analysts. Moodys notes that Zuffas events have a year round season and are not tied to specific teams [like other US sports] and as a result the company has unique flexibility to grow internationally. UFC is expected to find an easier time spreading in Latin America, Europe and Asia, than other US sports, and Zuffa is well positioned to capitalize on the expansion and increasing fan market share of the sport internationally.
Its also a brand that does well in the post-TV world, where advertisers are looking for televised events to plaster their brands across arenas and stadiums in an effort to reach dwindling viewership: On-site sponsorship and monetization is very important now, Ross said. Its important because television advertisers are finding it increasingly difficult to reach audiences on televisions.
The Fertittas and White are now even richer men than they a week ago (Flash, a venture of the Abu Dhabi government, bought 10% in 2010 and still control that percentage) but what does the future hold for the men who made UFC what it is today? Lorenzo Fertitta resigned from the casino business to join the UFC full-time as chairman and CEO in 2008. The move preceded a significant expansion of the company that pushed it beyond a mere fight promotion to a content provider producing thousands of hours of media delivered over television and online streaming services.
With news of the sale to WME-IMG, which, according to Sports Business Journal, secured the largest ownership stake in UFC and operating control, Fertitta is expected to step down from the UFC and concentrate on his role with Red Rock Inc, the new corporate name of his familys Station Casinos. In April, upon Red Rocks initial public offering, Fertitta entered into a five-year employment deal with the company. Several other executives are expected to leave Zuffa for Red Rock. There has also been speculation that Fertitta would be interested in becoming a minority owner of the NFLs Oakland Raiders, should they relocate to Las Vegas.
White, however, will stay on as UFC president (he is estimated to have made $360m from his 9% share in the company). It is difficult to imagine the UFC without White, who confirmed the deal to multiple media outlets on Sunday. White expressed that he will miss working with Lorenzo Fertitta, though he suggested that WME-IMG are the right partners to lead UFC into the future.
Whites reputation precedes him. To his benefit, White exudes the charisma of a great fight promoter, which is what he is. But hes also prone to leaping headfirst into the organizations spats: for example in 2009, he had to apologize after using homophobic and sexist slurs against a member of the media
Theres a new, similarly colorful boss in town with the groups acquisition. Ari Emanuel, WME-IMGs co-CEO, was famously fictionalized as Ari Gold in HBOs Entourage.
The news of the sale was far from a shock. As MMA insiders descended upon Las Vegas last week for UFCs busiest stretch of 2016 from Thursday to Sunday it promoted three fight cards featuring four title bouts, as well as a massive fan convention there was an expectation simmering that an ownership change would soon be revealed. Zuffa vigorously denied that any sale was completed, and UFC executives went so far as to circulate an internal memo to employees saying as much. Both Lorenzo Fertitta and White went on record again last week denying the UFC had been sold.
But by Sunday the cat was out of the bag. Based on the financial return alone, Zuffas decision to sell following a record-setting 2015, when UFC brought in more than $600m in revenue, made sense. However the Fertittas motivations to get out of the fight business extend beyond money considerations.
While its gate receipts, merchandise numbers and pay-per-view sales continue to flourish, especially as star fighters like McGregor and Rousey emerged, only recently have dynamics shifted to the point that UFC may be compelled via federal legislation, an antitrust lawsuit, a fighter-based trade association, or the force of will from its top stars to alter the way it conducts business. There are still concerns over fighter pay purses are still well below those of boxings biggest names and UFC is notorious for occasionally banning journalists (including one of the Guardians regular writers) who do not toe the party line.
That background will need to be navigated by the new ownership group. Despite the uncertainty, WME-IMG and its partners appear positioned to reap the rewards of Zuffas hard work when the UFCs broadcast rights agreement with Fox ends in 2018. Negotiations for a new deal, which could see Fox bidding against ESPN, are expected to generate significantly more money than the seven-year deal it signed in 2011.
Zuffa made the UFC a global brand, though it hasnt yet cracked open the doors to mainland China. In June, WME-IMG announced a deal to expand its reach with sports and entertainment into China, and with UFC content as an asset this kind of arrangement would fit very well for the entertainment powerhouse.
Read more: https://www.theguardian.com/sport/blog/2016/jul/11/ufc-sale-dana-white-wme-img-lorenzo-fertitta