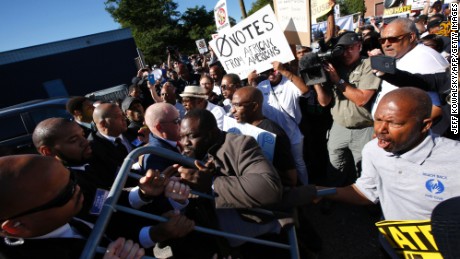 (CNN)Last week, Donald Trump, running as Savior-in-Chief, tried to appeal to the African-American electorate by attending his first black church, Detroit's Great Faith Ministries. Though it took him long enough, at least Trump finally spoke to black folks rather than past them.
That said, he has yet to show any real understanding of the plight of African-Americans or to lay out a comprehensive plan to address their concerns. Given his racist history — from being
sued for housing discrimination
in the 1970s to
embracing avowed white supremacists
in the present day — he has some serious work to do if he wants to win over African-American voters.
<
ul class="cn" cn-list-hierarchical-xs cn–idx-4 cn-zoneadcontainer">
Then, he could lay out a plan that includes freeing up capital for minority-owned businesses, incentives for large companies to locate in distressed areas, pathways for more minority-owned firms to do government work and access foreign markets, and investments in STEM, entrepreneurship and job training.
Many have framed this election as a disturbing and negative result of America's ongoing racial and ethnic transformation. But minorities represent more than votes. They are key drivers of America's economy and the future of the country's workforce, which has been changing far more significantly than its politics for the past four decades.
By 2020, the white working-age population will have declined by 19 percentage points. The minority working-age population will have doubled to 37% — and during the next president's term. The fact that minorities will make up more than a third of the workforce means our next president must address the economic conditions of people of color.
So while Trump swayed to the choir music at Great Faith Ministries and praised black Christians, it is not enough. He has to "walk the walk" with African-Americans. He has a long road to travel — and little time to get there.
Read more: http://www.cnn.com/2016/09/08/opinions/trump-woo-black-voters-wade/index.html