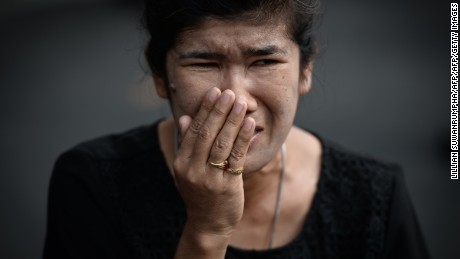 Bangkok (CNN)In many ways, life feels normal in Bangkok.
Ferries float along the Chao Phraya River, tuk-tuks dart through traffic on chronically congested streets, and markets are jam-packed with vendors and customers haggling over handicrafts.
<
ul class="cn" cn-list-hierarchical-xs cn–idx-4 cn-zoneadcontainer">
But life isn't normal.
Nearly everyone is wearing black, the official primary color of Thailand's year-long mourning period for King Bhumibol Adulyadej, who died Thursday at 88 after an unprecedented 70-year reign.
Stores sell mainly black clothing; even mall mannequins are draped in black. Colorful items are gone altogether or relegated to clearance racks.
Empty red-light district
Hotels are asking guests to "show respect" for the Thai people by following mourning protocol and wearing "somber-colored" attire. Famed for its raucous nightlife, many Bangkok bars and restaurants have stopped serving alcohol.
The racy red-light district is nearly empty.
On orders from the military-controlled government that seized power in a 2014 coup, all television channels must mainly run coverage dedicated to the King and his life until further notice.
Following a government mandate to refrain from "entertainment" during the mourning period, sporting events — including football matches — are canceled for 30 days.
And for most Thais, this all seems perfectly natural.
While many around the world would be surprised at the idea of a government-imposed year of mourning, in Thailand many citizens grieve as if they've lost a member of their own family.
It is remarkable to see both young and old share such a profound a sense of sadness and loss over a monarch they've never personally met.
Big shoes to fill
The Thai Prime Minister, General Prayuth Chan-o-cha, called Bhumibol's death a "national crisis" and urged citizens to remain calm.
He shocked many by requesting to delay his accession until after the official mourning period and royal funeral, saying he also needs time to mourn alongside the Thai people.
Many privately question how the Crown Prince, or anyone for that matter, could fill the immense shoes of the late King Bhumibol. He was the only ruler most of this country's 68 million citizens have ever known.
Many also fear the death of a man who served as a unifying force in this deeply divided nation could threaten to destabilize Thailand.
It is important to note: Thailand's strictly enforced lese majeste laws have long protected the King's public persona. Openly criticizing or speculating about any member of the royal family can mean up to 15 years in prison.
The current government has stepped up enforcement of these laws, drawing criticism from the UN Human Rights Chief and others who say the strict anti-defamation laws are being used to suppress political dissent.
Regardless of outside criticism, the nearly universal adoration Thais feel for their late king is undeniably palpable — and unparalleled in the modern world.
'We lost our father'
On Thursday morning, our team went to Siriraj — Bangkok's oldest hospital — where hundreds had already gathered to pray for their king. They held portraits, sang songs, and repeatedly chanted "long live the king."
Throughout the day, the crowd swelled into the thousands. When news of the king's death was announced on Thursday evening, many openly sobbed.
Ovartvoraporn Bhakchuda, a Thai woman outside the hospital, was unable to hold back tears as I spoke with her live on CNN just after the Royal Household announced the king's death.
"We lost our father today," she said. "He is a father … that wanted to do everything, the best thing, for his kids."
On Friday, when the King's body was taken from hospital to the Temple of the Emerald Buddha on the grounds of the Grand Palace, hundreds of thousands of Thais lined the streets for the somber parade.