<figure class="media-landscape" has-caption full-width lead">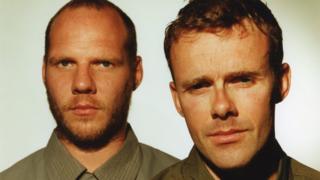 Image copyright Rick Guest

Image caption Leftfield in 1995: Paul Daley (left) and Neil Barnes
When Leftfield released their debut album in 1995, it changed dance music forever.
Wilfully eclectic, Leftism never settled on a single genre, dabbling in tribal, trance, dub, house and ambient music.
The quality never dipped, proving that a long-form dance record – one that worked as a coherent suite of music rather than a collection of 12-inch singles – was possible.
It was among the first British albums to bring the club into the living room, alongside releases by The Chemical Brothers, Underworld and The Prodigy.
The duo behind Leftfield, Neil Barnes and Paul Daley, had started out in punk bands, and retained the ethos that "music that takes from other places but moves on".
<div id="bbccom_mpu_1_2_3″ class="bbccom_slot" mpu-ad" aria-hidden="true">