The world of comedy can seem like a gladiatorial arena, where jokes are wielded like weapons, insults are the stuff of casual conversation, and only the quick-witted and thick-skinned survive. But it doesn't always have to be.
On the CW musical comedy "Crazy Ex-Girlfriend," created by Rachel Bloom and Aline Brosh McKenna, it's empathy that underpins and strengthens the comedy, not cynicism, and there may not be any show on TV doing a better job mixing the touchy-feely with the hilarious. Yes, this show is about a pathologically clingy ex-girlfriend, Rebecca Bunch (Rachel Bloom), who abandons her high-powered corporate law firm and moves across the country to embrace an idyllic suburban lifestyle get closer to her long-ago camp boyfriend, Josh Chan (Vincent Rodriguez III). But far from reinforcing flattened stereotypes found in so many romantic comedies, the show subverts them by finding the vulnerability in all the characters.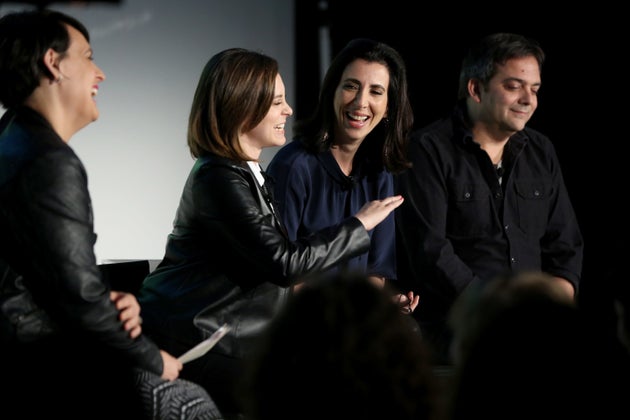 At a Vulture Festival panel on Saturday night, Bloom and McKenna, along with executive music producer Adam Schlesinger, chatted about the show's distinctive music videos and how finding a more sympathetic angle to each character actually makes the show sharper.
Take character Josh Chan's long-term girlfriend Valencia (Gabrielle Ruiz), who initially seems like the loathsome, cold, bitchy popular girl stereotype out of a '90s romantic comedy.
"Valencia is a character who is fear-based, and we'll be exploring that more," Bloom told the audience. (The showrunners also announced that Ruiz will be back as a season regular, despite Valencia's breakup with Josh.) "She's been told all her life that all you have is your looks and your prowess, and if you don't have a man, you're worthless."
We're prepared to root against Valencia, Brosh McKenna argued, because she's at odds with the show's protagonist, Rebecca, and "doesn't comport herself in a sweet way." The co-creators gave credit to Ruiz for the character's evolution toward complexity and relatability. "We had probably written her more one-dimensional on the page," said Brosh McKenna, "but Gabrielle brings a dimension and interiority."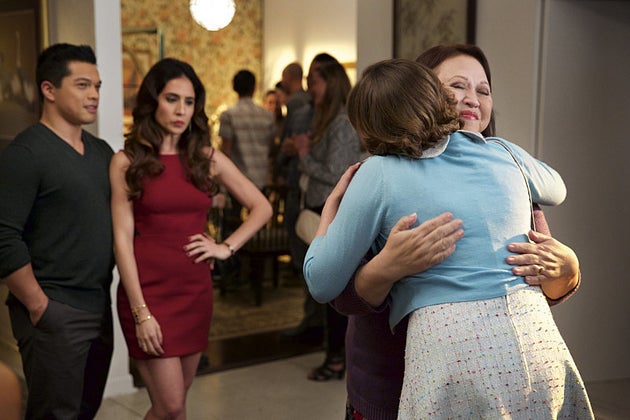 Ruiz's portrayal of Valencia as both a territorial girlfriend who hates other women and a vulnerable woman who loves her boyfriend and is afraid to lose him turns a stock character into a human, someone with serious flaws and worthy feelings of her own.
The showrunners could have chosen to balance a heavy-handed comedic trope with schmaltzy moments of emoting, but instead, "Crazy Ex-Girlfriend" finds the biting humor in the juxtaposition between Valencia's motivations and her actions. "For us, the comedy of the show doesn't work unless it's grounded in some serious dilemmas, but also things have to pull their weight comedically," explained Brosh McKenna.
Though combining the humor and the emotional arcs may sometimes be challenging, these artistic constraints have been fruitful for the show so far. Eschewing the easy way into a joke about a character tends to lead to both a more empathetic and revealing perspective, but also a funnier moment, like Valencia's earnestly eager yet painfully artificial attempts to win over her potential future mother-in-law, Mrs. Chan, while she watches her rival Rebecca effortlessly charm Josh's family.
In those moments, Valencia isn't just the loathsome girlfriend we expect, the one who could easily have been written as simply rude, proudly vapid and disrespectful. She's not what her boyfriend's parents want for their son, and she's humiliatingly aware of it; even as her attempts to remedy this fall hilariously short, it's easy to feel for her. Valencia, in these moments, is one of us.
Bloom and Brosh McKenna also pointed to the role of Darryl Whitefeather (Pete Gardner) as a potentially flat caricature brought to life by a talented actor and considerate treatment by the writers. "You could play him as a dickish character," said Bloom. It was Gardner's own "gracious heart" and warmth toward the character, she said, that opened him up into someone more complicated, with innumerable comedic possibilities.
"Darryl and Rebecca are actually the most similar characters we have on the show because they're both optimists with a deep sadness who're trying to find their ways in the world," said Bloom. The sad-sack divorced dad who suddenly becomes Ivy League-educated attorney Rebecca's half-competent boss blossoms into someone with a far more real inner life.
This was most notably demonstrated by the arc in which Darryl realizes he's bisexual, comes out, and begins dating a young man in Josh's crew. In the earnestly peppy retro number "Gettin' Bi," he celebrates his newly found identity with the kind of sweetly funny obliviousness of a well-meaning dad who's trying to seem down with his teenager's friends (even as they roll their eyes).The joke, it's immediately clear, isn't on Darryl's bisexuality — it's on his hilarious but endearing assumption that everyone he works with wants to hear about his sex life.
Darryl's anthem to single dadhood, however, posed a particularly delicate challenge to the writers. "I Love My Daughter (But Not in a Creepy Way)" sends up country songs routinely found on "father-daughter dance" playlists despite their uncomfortably creepy undertones. But in spotlighting Darryl's devotion to his young daughter, and spoofing the genre of "daddy's little girl" songs, the writers risked casting Darryl as a real creepster.
"[Brosh McKenna] hit on one thing which was awesome," Bloom remembered, "which is … we don't want to sell out Darryl. We don't want to make the song actually creepy, and the song went a really cool interesting way that's more unexpected." The final song, performed by a happily innocent-minded Darryl, devolves into frustration as he realizes just how creepy many of the father-daughter activities he's singing about actually sound.
For a show called "Crazy Ex-Girlfriend," it should be no surprise that the comedy specializes in deconstructing cultural tropes and making us root for traditional villains. The show's diligence and range in reshuffling stereotypes is still impressive, however. It's not just the titular crazy ex, Rebecca, who we both laugh at and sympathize with, but her rival, her best friend, her boss, and her love interests. Josh seems like a lunkhead jock who could never be right for overeducated Rebecca Bunch, but we also see that he's straightforwardly kind, loyal and appreciative of Rebecca's talents. Greg seems like the smart, well-suited guy with potential, but he's also granted a host of ugly insecurities, a tendency to self-sabotage, and a touch of smarm.
When it comes to the music on the show, its dance-pop tributes and Sinatra spoofs, Brosh McKenna said, "They send up the thing, but they are the thing." This also encapsulates the entire show's approach, and how it so insightfully and empathetically enfolds each character into the story in a meaningful way.
Rebecca's character is a deconstruction of the crazy ex-girlfriend trope, but she also is, very much, a crazy ex-girlfriend who comes in and causes trouble. Valencia's character deconstructs the trope of the woman who hates other women, but she also does hate other women. The show as a whole is picking apart pop cultural messages about romance and sex, but it's also a romantic, sexy show in its own way.
By doing both at the same time, "Crazy Ex-Girlfriend" shows us that sure, these tropes might be messed up, but we're not crazy for embodying them, buying into them, being compelled by them. They're problematic, but they're personified by real people with real, relatable motives. We can't have our cake and eat it, too; but maybe we can have our feminist satire and enjoy our romantic comedy, too.
Read more: http://www.huffingtonpost.com/2016/05/23/how-crazy-ex-girlfriend-uses-empathy-to-make-better-comedy_n_10128092.html