<figure class="media-landscape" has-caption full-width lead">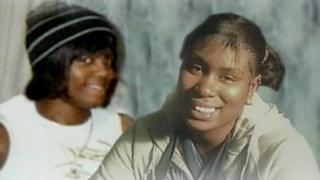 Image caption The feud between two Birmingham gangs led to the deaths of Charlene Ellis, 18, and Letisha Shakespeare, 17
As a spate of shootings and murders – many linked to gangs – adds to Birmingham's surging gun crime tally, former members of the city's notorious crews talk about "street life" and why they want to stop the new generation following their example.
"How bad was I? Bad. I was a terrorist. I'd hear something has happened to someone, put the phone down and go."
Simeon Moore was in his youth a part of Aston's infamous Johnson Crew, the gang known mainly for its rivalry with the equally disreputable Handsworth Burger Bar Boys in the 90s and early 2000s.
Both groups were involved in murders and tit-for-tat shootings across the city, including the high-profile murders of Charlene Ellis and Letisha Shakespeare at a New Year's party in Aston in 2003.
The teenage friends were killed when Burger Bar members opened fire with a sub-machine gun on party-goers in a botched gang retaliation – a public slaying which marked the city out in the national press as having a gang problem.
<
div id="bbccom_mpu_1_2_3″ class="bbccom_slot" mpu-ad" aria-hidden="true">