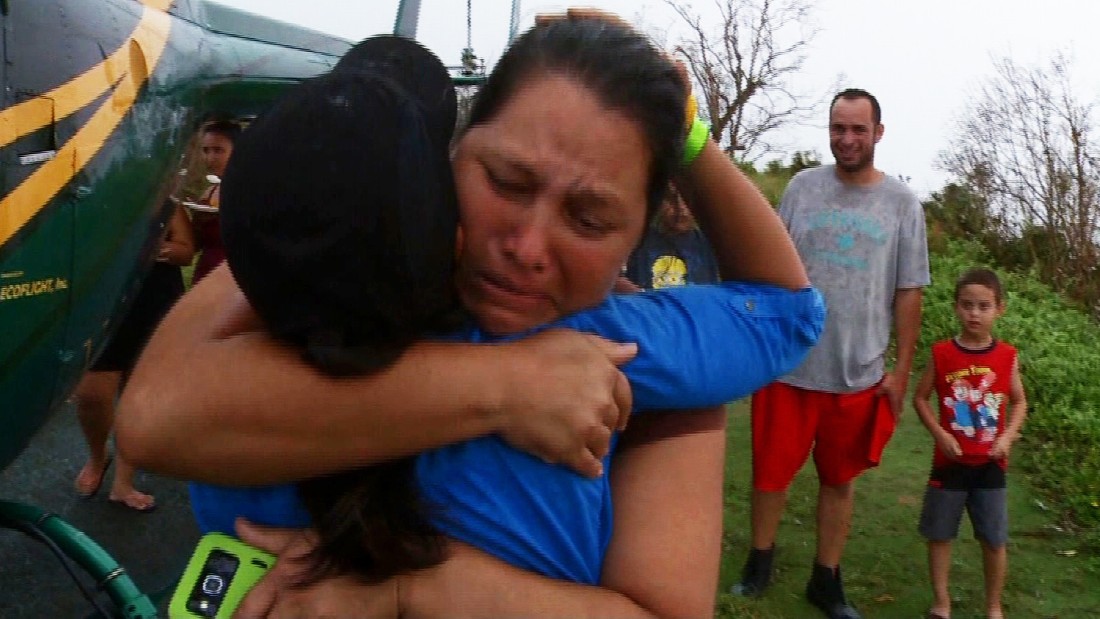 San Juan, Puerto Rico (CNN)I am writing this in the dark. The hotel doesn't have power, and one of the generators failed. I had to walk up 10 flights of stairs to get to my hotel room because the elevators don't work. The lights have been flickering all night.
If that's my biggest problem, however, I consider myself lucky.
I've covered devastation. I've covered disaster. I've covered destruction. Hurricane Maria was more.
It has upended the lives of 3.4 million people. It has cut off entire towns from each other. It has left residents without water to drink or bathe in. Enough aid has not come for many. The gravity of the recovery time is starting to set in.
Maria also devastated the people I call family, and destroyed the island that molded me into the person I am today. So for me, covering the devastation was personal. I owed it to the island that has given me so much. I was born here, and while I left when I was 3, I have returned for so many holidays. It's where I spent my summers and where I was married.
I fought the winds as the Category 4 storm smashed into Puerto Rico on September 20 and then reported the devastation around San Juan.
Most roads were closed so to see the impact outside the capital, we had to take to the air.
I was flying over an island I didn't recognize. It had no color. The once lush trees had been stripped of all shades of green. It was hard to find any power lines still standing. Even the typically bright turquoise of the ocean was muted.
We flew to some of the most remote, rural and hardest hit areas: Yauco, Utuado and Quebradillas. I will never forget how I was greeted.
When our chopper touched down in Quebradillas, a woman ran to embrace me. She was crying, desperately explaining she needed to reach her family in New Jersey. She hugged tightly, and didn't let go quickly. I was the first outsider she had seen since the hurricane hit.
Word spread quickly. The town surrounded us within minutes. No one knew who we were. They didn't ask for food or money. They were curious. Did we have cell service? Did we know what was happening in other towns?
As with other towns, we were their only source of news and the only way to share their own. They begged for help relaying messages home.
I asked for a list of names, numbers and a message. I promised them I would call later.
Then it was time to leave. Amid the chaos, I didn't even get the woman's name.
…
As we left Quebradillas to return to San Juan, the pilot asked if I needed to see anything else.
I asked him to fly over Corozal, a mountainous community in the interior.
He said we didn't have enough fuel to land, but a flyover was feasible. When he announced "This is Corozal," I was scared to look out the window. I was dreading what I would see.
"Whoa, it looks like a bomb went off here," the pilot says.
He didn't know it was my hometown, where my family has lived since the 1800s.
I had to look.
I didn't recognize what I saw. Trees were down, debris was scattered everywhere. For a few minutes, I couldn't even find a landmark to orient myself at all to the town I called home.
And I couldn't control the tears as we circled the destruction from above. I felt so helpless having family down there, but not being able to land, to reach them.
I snapped a picture. I left with a lot of guilt, thinking Corozal should have been my first stop.
When I got back to the hotel, I called my family in Florida. I told them Corozal didn't look good, but I couldn't bring myself to share the photo.
And then my crew and I pulled out the names and numbers given to me earlier to call friends and families and deliver news.
One note read simply:
1. Tony OK
2. Tony @ Frank's House
3. Villa damaged but repairable
4. Cell out
5. Love you all!
We made call after call, trying to share as much as we could with loved ones.
…
A couple of days after flying over Corozal, I overheard that the road was now clear.
Soon, I was on that road. For 45 minutes from San Juan to Corozal, my heart was pounding.