<figure class="media-landscape" has-caption full-width lead">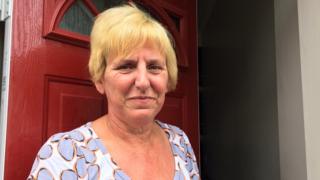 Image caption Carol McMillan said she had "nothing to lose" when applying for her £1 home
Aged in their 50s without a mortgage, Carol and Tommy McMillan had resigned themselves to a lifetime in rented accommodation.
But a scheme allowing them to buy a house for £1 has transformed their lives "dramatically", they said.
The couple were successful applicants in a Stoke-on-Trent scheme to revamp run-down properties.
Mrs McMillan, 54, and her 58-year-old husband, were successful applicants in the first scheme in the Cobridge area.
While they had both had mortgages in previous relationships, in recent years the couple, who have been together for 18 years, thought they were too old to get a mortgage.
<div id="bbccom_mpu_1_2_3″ class="bbccom_slot" mpu-ad" aria-hidden="true">