<figure class="media-landscape" has-caption full-width lead">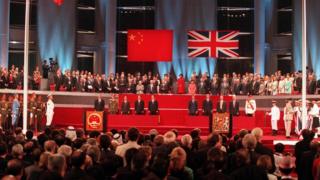 Image copyright Reuters

Image caption Hong Kong returned to Chinese sovereignty in 1997
This year marks the 20th anniversary of Hong Kong's handover from the UK to China. The BBC's Helier Cheung, who sang in the handover ceremony, shares her personal reflections on the last two decades.
As a child, you don't always appreciate when you're witnessing history.
On 1 July 1997, I was part of the choir singing in the handover, in front of China's leaders and millions of viewers around the world.
It was a historic day. But I was nine at the time, so my most vivid memories were:
the sandwiches we ate backstage – they were disgusting
the heavy rain – although I glimpsed a rainbow too
singing some songs I could only half understand because they were in Mandarin.
All of us in the choir had grown up speaking Cantonese. So singing in Mandarin felt both familiar and unfamiliar – it signified a culture we recognised, but did not grow up with.
<div id="bbccom_mpu_1_2_3″ class="bbccom_slot" mpu-ad" aria-hidden="true">