<figure class="media-landscape" has-caption full-width lead">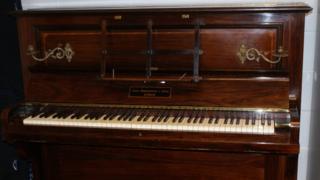 Image copyright Portable Antiquities Scheme

Image caption The history and whereabouts of the piano between 1906-1983 is unknown
A "substantial" hoard of gold has been found hidden inside an old piano.
The discovery was made in Shropshire before Christmas when its new owners had it retuned and repaired.
Experts think the valuables might have been "deliberately hidden" in the instrument more than 100 years ago.
An inquest opened at Shrewsbury Coroner's Court earlier to determine whether the find can be classed as treasure, or whether an heir to the cache can be traced.
Peter Reavill, of the British Museum's Portable Antiquities Scheme, described the find as "a stunning assemblage of material".
<div id="bbccom_mpu_1_2_3″ class="bbccom_slot" mpu-ad" aria-hidden="true">