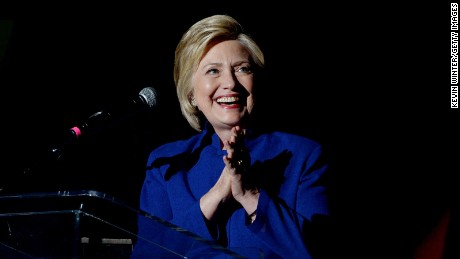 Los Angeles (CNN)Hillary Clinton made California her campaign's ATM over the last 18 months, headlining 71 fundraisers in the Golden State as a candidate in 2015 and 2016 and raising over $100 million, a CNN analysis shows.
Clinton headlined what her campaign has been branding as her final fundraiser in California Thursday night — a 115-person star-studded event featuring a performance by Elton John. The event, which brought in over $4 million, was hosted by entertainment executive Casey Wasserman and attendees included Barbra Streisand.
<
ul class="cn" cn-list-hierarchical-xs cn–idx-4 cn-zoneadcontainer">
Earlier the day, Clinton headlined a 4,500-person concert fundraiser featuring Andra Day in San Francisco. That event, which included a 40-minute speech by Clinton, raised over $6 million.
California is easily Clinton's most lucrative state. Taken together, Clinton's Golden State fundraisers raised just over $100 million, according to CNN's estimate based on ticket prices and attendance figures provided by the campaign.
She has held more fundraisers in New York — 85 — but those events have brought in just over $81 million based on the same calculation. It is expected that Clinton will headline more New York fundraisers before the end of the campaign.
Fundraising is something every presidential candidate has to do to a certain degree, but Clinton has spent more time headlining events than recent nominees. While Clinton has struggled to match the small dollar donations that powered then-Sen. Barack Obama's 2008 campaign and Bernie Sanders' primary race, she has been prolific at top-dollar events.
It is unusual that a candidate break away from the campaign trail for days at a time to fundraise this late in the campaign. But the decision to do so is a sign that while Clinton's fundraising has been record-breaking this cycle, much of her top-dollar fundraising stems from events she has to headline.
Clinton's most lucrative fundraiser in California was an almost 6,000-person event at the Greek Theater in Los Angeles on June 6. That event was headlined Stevie Wonder and included performances by Ricky Martin, Christina Aguilera and John Legend and raised around $15 million.
But smaller events were also big raisers: Clinton's average haul from a California fundraiser was just over $1.4 million, according to the same figures provided by the campaign.
Robby Mook, Clinton's campaign manger, said Thursday that Clinton and her top surrogates will spend less time fundraising in coming weeks, noting that the campaign will be relying on "online donors" to fund the campaign.
"We saw big spikes in online giving around the convention, around the debate and we certainly expect to see that before and during the next debate," Mook said. "And I would say in addition to that, as the amount of time the secretary and her surrogates spend campaigning in these last few weeks, it is actually these online donors who will almost exclusively be funding this campaign."
But Clinton has a massive war chest that Democrats thing will easily carry her through Election Day.
Clinton's campaign raised a record $154 million in September, breaking the record set by Obama's campaign in August 2008. The started October with $68 million in the bank.
Read more: http://www.cnn.com/2016/10/15/politics/hillary-clinton-golden-state-raised-100-million-california/index.html