Likely Democratic nominee marches with mayor, governor and others while attendees remember Pulse victims and banner reads Republican hate kills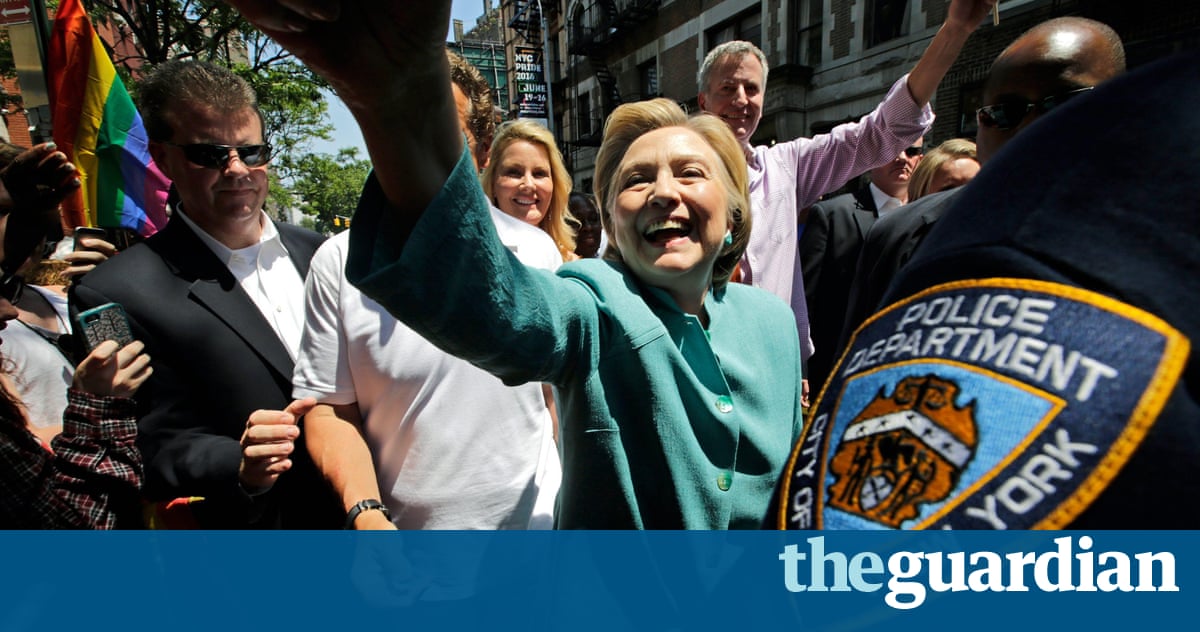 Oh my goodness, yelled an announcer for New York Citys Pride march. That is Secretary Clinton! The next president of the United States!
As Clinton passed the corner of Christopher Street and Bleeker, another announcer asked the crowd to make some noise if youre voting for Secretary Clinton.
Attendees shouted and whooped.
This was not Clintons first New York Pride, but while the march was filled with its usual positivity, color and dancing, politics permeated the event. The recent mass shooting in an LGBT nightclub in Orlando, the worst in US history, was on most minds. So was the impending presidential election.
Clinton, who walked with New York City mayor Bill de Blasio and his wife Chirlane McCray, Governor Andrew Cuomo, Reverend Al Sharpton and others, was one of an estimated 32,000 marchers to take part in the parade. Members of her campaign staff walked separately, wearing shirts that read: Love trumps hate.
For Luis Lopez-Maldonado, 31, an intern in the city, the presidential election was especially concerning for the LGBT community.
Gay rights are on the line, he said. Thats really hard to think about if [Donald] Trump wins, were gone. Whatever we are, we will not have support. I would be kicked out, even if I was born here and I had degrees.
His co-worker, Giselle Gonzalez, 18, said voting is important and ignoring a candidate you did not agree with would not make them go away.
It was Gonzalez and Lopez-Maldonados first Pride. Last years event had an estimated 2.5 million attendees, march director Julian Sanjivan told AMNY. More were expected this year.
For Marian Holmes, 24, a business owner from Long Island, Pride 2016 was still a celebration, but it also had a more serious tone.
Its all fun and games and rainbow flags, but there are still people dying, she said in reference to the attack in Orlando on 12 June, which killed 49 and wounded 53.