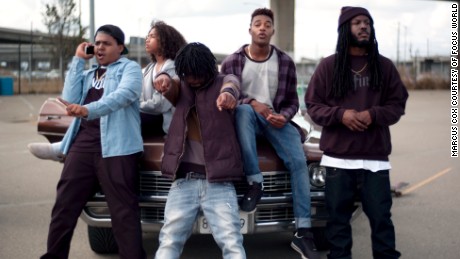 (CNN)In the opening minutes of "Kicks," an Oakland-set coming-of-age film from first time feature director Justin Tipping, it's clear 15-year-old Brandon (Jahking Guillory) is just a kid looking for a break.
He's small, gets picked on, and longs to have and be more than he is.
<
ul class="cn" cn-list-hierarchical-xs cn–idx-4 cn-zoneadcontainer">
A pair of shoes gets him exactly what he's looking for.
They're not just any pair of shoes, of course. They're a coveted pair Air Jordans, which he buys from a man selling them out of the back of a van.
For a bit, it seems life has given him the validation he was seeking, but just as quickly, it's taken from him by a group of neighborhood bullies led by a notoriously tough figure named Flaco (
Kofi Siriboe
). Except this time, Brandon is determined not to let his status symbol go so easily.
The adventure that ensues is on its surface a film about a group of almost-teens fighting back. But a series of twists, bad decisions and an imaginary astronaut help transform the movie into a poignant exploration of violence and masculinity.
The story was inspired by Tipping's own experience with getting jumped as a teen — a "humiliating right of passage" in his childhood Bay Area neighborhood.
Tipping remembers his brother trying to comfort him after it happened, telling him "It's okay, you're a man now." As an adult, he wondered why is masculinity synonymous with violence. That's when "Kicks" was born.
But a rated R movie about young people of color with no role for a big-name celebrity anchor and a silent astronaut wasn't an easy sell. And Tipping and Joshua Beirne-Golden, his friend and collaborator since film school, weren't keen on compromising any elements.
"We made it especially difficult for ourselves," Beirne-Golden told CNN in an recent interview. "It took someone who was going to have a leap of faith that we could do it."
Once funding was secure, they set out to find their cast. The three male teen stars — Christopher Meyer, Guillory and Christopher Jordan Wallace (son of Biggie Smalls) — were brought to them by their casting director. More minor roles were filled by kids from around the Bay Area, plucked from youth groups and after school programs.
<
div class="el__embedded" el__embedded–standard">