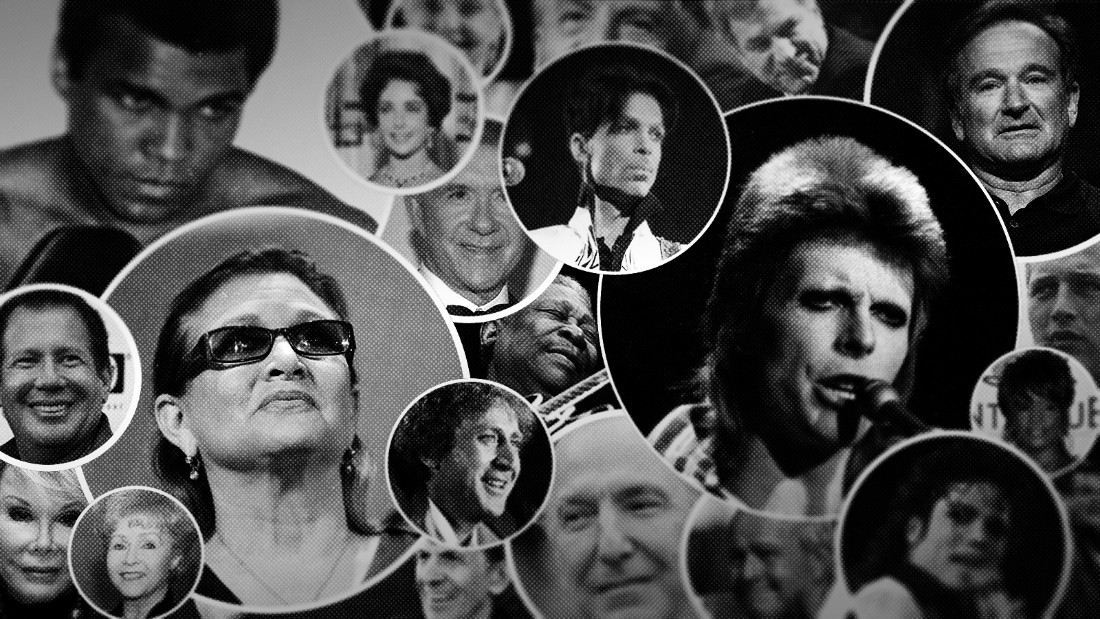 (CNN)Hollywood kept us busy in 2016.
Whether it was a feud, a high-profile divorce or a spectacular jewelry heist, this past year was full of jaw-dropping moments. Here's a look back at the top celeb stories of the year.
<
ul class="cn" cn-list-hierarchical-xs cn–idx-4 cn-zoneadcontainer">
10. Kanye West hospitalized
Kanye West was
admitted to UCLA Medical Center
in November and a source close to West told CNN he was being treated for "exhaustion." The news came after West had canceled the remainder of his Saint Pablo Tour after several lengthy rants and late shows. After eight days in the hospital, and missing Thanksgiving with his family,
West was released.
9. Amber Heard and Johnny Depp's contentious divorce
8. Kesha and Dr. Luke's legal battle
Kesha and Dr. Luke's legal battle dragged on for the majority of 2016.
It started when the singer filed a civil suit against her longtime music producer in 2014, claiming that he drugged her and emotionally abused her. The legal battle came to a head in 2016 when Kesha tried to get out of her contract with Sony and Dr. Luke's Kemosabe Records. A judge denied her request and as a result, she received an outpouring of support from several celebrities including Adele, Lady Gaga and Taylor Swift. Since then, Kesha
has dropped one of her lawsuits
against Dr. Luke and her label in an effort to put out new music.
7. Michael Strahan's turbulent exit from "Live"
The former NFL star made headlines after it was announced he would be leaving "Live with Kelly and Michael" to take on a full-time gig at GMA. The decision had been in the works for several weeks, but Ripa was the last to know. Ripa felt blindsided and did not return to her talk show for several days. Upon her return, Ripa emotionally addressed viewers and said that she had "needed a couple of days to gather my thoughts." She went on to say that ABC assured her "Live" was a "priority" and even congratulated Strahan. Ripa is still in search of a co-host.
6. Kanye West & Taylor Swift go head-to-head
Kanye West and Taylor Swift appeared to have settled their infamous feud that started when West stole the mic from Swift during the MTV VMAs in 2009. But in February things took a dramatic turn when West called Swift "that b**ch" in his song, "Famous." The rapper swore that he had called Swift and warned her about the lyric, but Swift denied she agreed to the lyric. She released a statement saying she was "humiliated" when she first heard the song. Shortly after, a leaked recording of West made headlines because he called Swift a "fake a**" while backstage at "Saturday Night Live."
The feud reignited in June
when Kim Kardashian-West posted several alleged recordings of West talking to Swift about the song.
5. Lochte-Gate
U.S. swimmer Ryan Lochte came under fire when
he admitted that he fabricated a story about being robbed at gunpoint
in Rio during the Summer Olympics. Lochte had said that he and three fellow swimmers were robbed while at a gas station early in the morning of August 14. But it was later discovered that the swimmers had vandalized the gas station. In an interview with NBC's Matt Lauer he said, "I over-exaggerated that story and if I had never done that we wouldn't be in this mess." Lochte ended up losing endorsement deals with Speedo, Airweave and Polo Ralph Lauren.
4. Who is Becky with the good hair?
The internet nearly broke when
Beyonce dropped her visual album "Lemonade"
in April on HBO. The Grammy-winner released 12 videos and 13 songs that were filled with powerful visuals and lyrics that many thought were ripped from the pages of her own life. Fans believed Queen Bey was providing a glimpse into her marriage struggles and revealing that her husband Jay-Z might have been unfaithful. In one song, "Sorry," Bey sings: "He better call Becky with the good hair." The Bey hive went wild with speculation, trying to decode who Bey could be calling out.
3. A reality star robbed at gunpoint
Kim Kardashian-West made headlines in October after being
robbed at gunpoint
by masked robbers in Paris. The armed men got away with almost
$10 million worth of jewels.
Since the robbery, Kardashian-West has remained almost entirely out of the spotlight and has not posted anything on social media.
2. The breakup heard 'round the world
Brad Pitt and Angelina Jolie-Pitt shocked the world with their split in September.
Jolie-Pitt filed for divorce
and noted that she was seeking physical custody of their six children. It was later discovered that the couple had an argument on a private plane the week before Jolie-Pitt ended their marriage. Since then the FBI and the Department of Children and Family Services have dropped their investigations. The couple are expected to face off in court this January.
1. Hollywood suffered great loss
It was a devastating year when it came to the deaths of some of our favorite musical and on screen stars including Prince, David Bowie, George Michael, Florence Henderson, Alan Thicke, as well as the devastating one-two punch of Carrie Fisher and Debbie Reynolds.
Read more: http://www.cnn.com/2016/12/30/entertainment/biggest-celebrity-stories-2016/index.html