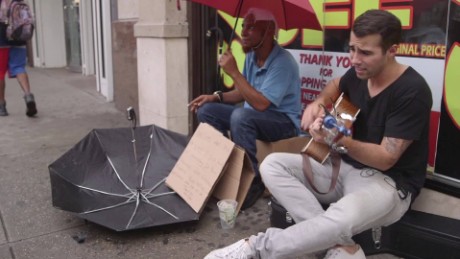 (CNN)On a rainy August afternoon, Chris Leamy sat on a pavement and waited for passersby to drop a dollar or two. But the 29-year-old isn't homeless. With a guitar in hand, he sits by homeless people in New York City and tries to help them boost their gains by playing a few tunes.
Up until 18 months ago, Leamy, like many of us, held a certain perception of the homeless image. "The homeless are incredibly forgotten. No one talks to them, no one looks at them, and I was probably guilty of that, honestly," he says. "I was nave and didn't realize how impactful just saying hello to someone can be."
<
ul class="cn" cn-list-hierarchical-xs cn–idx-5 cn-zoneadcontainer">
But one day in early April 2015, he came upon a homeless woman on the subway who told him things would be much easier for her if she "had one of those" — pointing at his guitar. "I never thought of it that way, but she said homeless and less fortunate people are much more likely to get tips if they have a talent," Leamy remembers.
A few nights ago I was on the subway with my guitar and a woman looking for spare change said to me "I wish I played one of those, this would be easier." Got me thinking. So these last few days, I went around the subway and sat with a bunch of folks less fortunate than I am. I opened my guitar case and played a few songs. The money we made, I gave to them. I practiced for @websterhall May 1st, and they made a few bucks. #winwin I also heard some great stories along the way as we got to know each other. I look forward to sharing them with you. #heplaysforme #thestart #beawesometosomebody #websterhall
The encounter gave birth to an idea, which Leamy has been acting on ever since. On a weekly basis, he tries his new songs on the city streets, as a testing platform for himself to help him get comfortable in the singer/songwriter realm, and as a means of earning more money for a homeless companion.
Leamy recalls being "absolutely blown away" the first time he sat down with a homeless stranger. "It was definitely a life changing event for me because I just really didn't count on all of the inspiring stories and all of the incredible words of wisdom that I've encountered."
With a BA in Economics and a sales and trading day job for a large financial firm, Leamy decided to take his by-night musical initiative a step further. He created an online campaign called #HePlaysForMe, which has thus far successfully helped Miguel Correa, one of his impoverished friends, find housing and a job. He ultimately raised over $4,000 in one 30-day donation challenge.
Through his music, Leamy says he is compelled to do good. "I don't know if I would have ever thought about #HePlaysForMe if I was counting on music for income," he says. "Being able to use music which I love so much for something that helps someone else — I'm very grateful to have that opportunity to do that."
When I tried to give Eric the money after our set, he refused to take all of it. "You played, you need to keep some of it!" It was only a few dollars, but I thought that was incredibly gentlemanly of him. While we were taking this picture I slipped the rest into his jacket. Union Square, 4/5/6 Line #thestart #heplaysforme #beawesometosomebody
Almost a year into the project, the light Leamy decided to shed on the homeless population turned back to shine on him, with a big karma hug and a distribution deal with RED, Sony's distribution arm. RED's Tyler Blatchley confirmed Leamy's upcoming new music video, "American Man", will be released on September 2, and the full EP on September 16. The impact of his experience with the homeless is strongly reflected in his new song, with even a guest appearance by Correa in the music video.
Leamy doesn't see success stopping his homeless initiative, saying it keeps him grounded and focused on what really matters.
His biggest concern is that he doesn't want his work perceived as a gimmick. "The goal is to demonstrate credibility because the last thing I would ever want would be anyone to think I'm taking advantage of anyone. The goal is to shed light on these homeless people and humanize them," he says.
Read more: http://www.cnn.com/2016/08/27/health/chris-leamy-helping-homeless-songs-trnd/index.html