If there's one thing you can count on in a Garry Marshall film, it's an appearance by Héctor Elizondo.
The actor has been cast in all 18 of the director's feature films since the two first worked together in the 1982 comedy "Young Doctors In Love." Marshall once told Entertainment Weekly that Elizondo was his "lucky charm." And with the premiere of "Mother's Day" on Friday, the duo's tradition remains intact.
"We have an almost non-verbal communication now," Elizondo told The Huffington Post Thursday.
It was Marshall who cast Elizondo as hotel manager Barney Thompson opposite Julia Roberts' character Vivian Ward in the unforgettable 1990 classic "Pretty Woman," which remains one of the actor's most iconic roles. In the director's third holiday-themed film, which interweaves several characters and motherhood storylines together, Roberts and Elizondo reunited on-screen to portray TV shopping network star Miranda Collins and her agent Lance Wallace, respectively.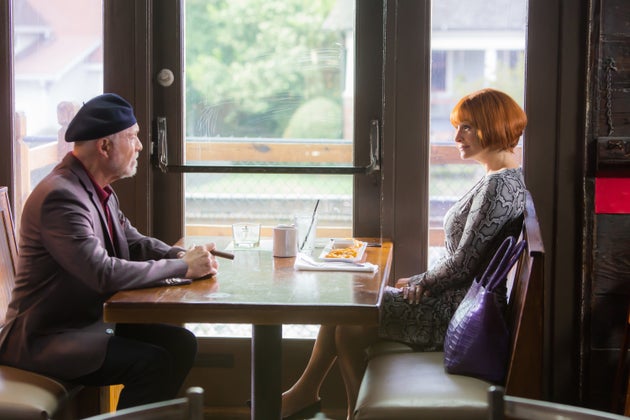 "We paid an homage to 'Pretty Woman,' and [in] one particular scene at the diner we tipped our hat to the 25 year anniversary of that movie," Elizondo told HuffPost. "The audience loves that movie and so do we. I said we have to pay some kind of homage because our relationship in this movie, even though [my role is] a cameo, is similar. I play her friend, her agent and I give her some advice in the diner very subtly, very oblique and she takes it, concerning the relationship with her daughter."
In the scene, Elizondo's character even points to "the salad fork" — a reference to when Barney taught Vivian dining etiquette in "Pretty Woman" — for true die-hard fans. Elizondo described filming the scene as a moving moment on set for everyone.
"That moment, I had to repeat it two or three times because for some reason I got emotional," Elizondo said. "I was looking at [Julia] and suddenly my body realized it, and this is unconscious, 'good lord, this happened 25, 26 years ago!' And I'm there looking at this wonderful woman and we've had a life experience. So for some reason I said 'Stop! Stop! I gotta do this moment again.'"
At first, Elizondo said, Marshall and the film crew weren't sure why he couldn't run through the scene until it happened again.
"They didn't know what happened and I excused myself, came back and tried it again," he continued. "And again I couldn't do it. I said 'I'm getting emotional.' Then they understood what was going on. They came back from video village, where they're watching the shoot from, and everybody had tears in their eyes because the same people were there. Garry and his crew were there 25 years ago and, of course, Julia. So it was a moment of great emotion and we were all hugging and crying, 'Oh my god, can you believe it!?'"
While Elizondo's role in the film is rather brief, the Nuyorican actor says this film won't disappoint audiences.
<span style="font-weight:;" 400;">"The movie is another Garry Marshall feel-good, makes you laugh and cry movie," Elizondo said. "He loves happy endings, he makes sure there's something to work through in the middle and things work out OK. And I especially like the fact that it's a nod to mothers, a very contemporary nod to mothers."
"Mother's Day" opens in theaters nationwide on Friday.
Read more: http://www.huffingtonpost.com/2016/04/29/hector-elizondo-and-julia-roberts-paid-homage-to-a-classic-pretty-woman-scene_n_9811286.html