Just days after the deaths of mother-daughter duo Debbie Reynolds and Carrie Fisher, HBO has announced that it will move up the premiere of a documentary film about the actresses that was supposed to air in March.
The film, "Bright Lights: Starring Debbie Reynolds and Carrie Fisher," was predominately shot in 2014 and 2015. But following the deaths of the daughter and mother on Dec. 27 and Dec. 28, respectively, the cable channel has pushed up the airdate to Jan. 7 at 8 p.m.
A trailer from May for "Bright Lights: Starring Debbie Reynolds & Carrie Fisher"
"The story of a family's complicated love, this documentary is an intimate portrait of Hollywood royalty in all its eccentricity," HBO said in a release. "Carrie Fisher and her mother, Debbie Reynolds, live in the same Beverly Hills compound. The 83-year-old grand dame still has a Las Vegas act, but performing is taking its toll. Carrie's response is both hilarious and heart-rending."
"Bright Lights" tracks Fisher and Reynolds' relationship as the daughter prepares for "Star Wars: Episode VII — The Force Awakens" and the mother prepares to receive a lifetime achievement award at the 2015 SAG Awards, which she wasn't able to accept in person because of health issues. In November, Fisher told the Los Angeles Times that Reynolds' "work ethic" helped her stay alive during that period.
"That's how she didn't die," Fisher said. "She will power through anything. There is no obstacle my mother won't acknowledge. She broke her leg once while onstage and went back on and sang 'Tammy.' She's this amazing creature, y'know?"
The film has already been shown multiple times, including at the Cannes Film Festival in May and the New York Film Festival in October. In reviews published before Fisher's and Reynolds' deaths, The Hollywood Reporter called the film a "tender tribute" and the Los Angeles Times called it "refreshingly honest."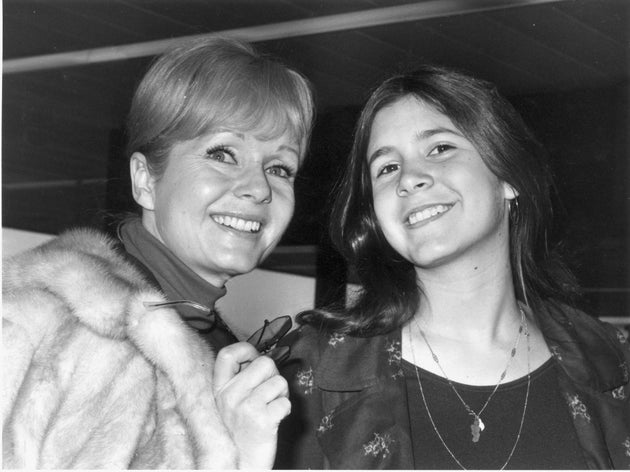 Dove via Getty Images
<
figcaption class="image__caption" js-image-caption"> Debbie Reynolds andCarrie Fisher in 1972.
In a joint statement to Variety following the celebrities'deaths, the film's directors, Alexis Bloom and Fisher Stevens, tried to describe the kinetic energy that appeared when
Reynolds and Fisher
were in a room at the same time.
"When either one entered a room, the energy changed. Quite simply, we were iron filings to their magnets. And never more so than when they were together. These women were more than mother and daughter: They were an expression of exquisite humanity in all its travail and triumph. They lived their days boldly. They sung every song worth singing (often together). Carrie and Debbie loved each other profoundly," they wrote. "We are devastated they're gone. And so very fortunate to have known them at all."
<
div class="content-list-component" text">
HBO will also rerun Fisher's one-woman show "Wishful Drinking" on Sunday at 9 p.m.