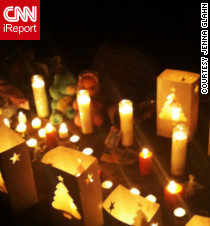 Bridgeport, Connecticut (CNN)As a national debate rages over AR-15-style rifles, an attorney representing the families of Sandy Hook victims killed by one of those guns implored a court on Monday to let their lawsuit against the manufacturer move forward.
"How many massacres until somebody says it's not worth it anymore?" asked the families' attorney, Josh Koskoff.
<
ul class="cn" cn-list-hierarchical-xs cn–idx-4 cn-zoneadcontainer">
"As I heard the news about Orlando [I felt] sadness, grief, disgust…No one should ever be put in that position," said Matthew Soto, whose sister Victoria Soto was a Sandy Hook teacher.
Adam Lanza was armed with a Bushmaster XM-15 on December 14, 2012, when he killed six adults and 20 children, ages 6 and 7, at Sandy Hook Elementary School in Newton, Connecticut.
"A weapon that was designed to be used in combat and to kill enemies in war…was lying not on a battlefield but on the floor of Vicki Soto's classroom," Koskoff said. "How did it get there?"
<
div class="ad-slide–inactive" ad-slide js-ad-slide">