Future among those sharing stage at sold-out show, where Gucci, more Clark Kent than Superman, took some time to find his footing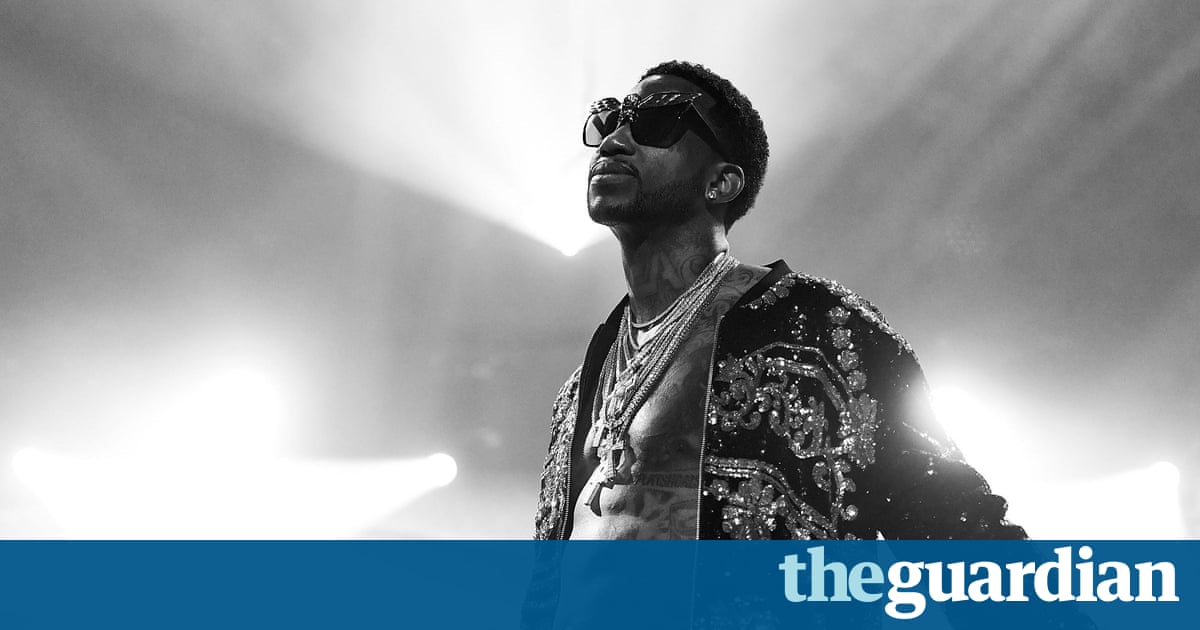 Had his life turned out differently, this night, billed Gucci Mane and Friends, could have been an anniversary show. His debut album, Trap House, a basic template for Atlantas homegrown subgenre trap rap, turned 10 in May of last year.
Instead, Gucci is fresh out of federal prison on a weapons charge. Welcome as it was, this sold-out homecoming at Atlantas Fox Theatre was also Guccis bid to reassert himself as he re-enters the rap world.
The trap in what was once called coke rap is an abandoned house with boarded-up windows. Yet Guccis gleeful, hooky tendencies gave this notion a pop appeal that has both molded and inspired his collaborators.
First came the regional talent: PeeWee Longway, Young Dolph, OJ da Juiceman. Then, artists who fill stadiums: a bashful Fetty Wap led a singalong to My Way, as if Taylor Swift hadnt invited him on stage last summer.
Yall know that my cousin, right? 2 Chainz boasted after sprinting through Watch Out. Future and Drake appeared two days after kicking off their Summer Sixteen tour in Austin. These cameos felt as triumphant as Gucci looked sequined jackets draped over his now-trim frame, as he strutted like a pro wrestler re-entering the ring.
Overhead, drugged-out projections reinforced Guccis status as a hip-hop folk hero: one showed him in 2009, holding a lit blunt to the lips of his Bart Simpson chain. But onstage, Gucci was more Clark Kent than Superman, pacing back and forth, his gaze barely rising past his designer sneakers. He could have been walking himself through dress rehearsal. Either that or he somehow couldnt register the sold-out crowd climbing over seats to get closer to him.
Also puzzling was his decision to play his biggest hits earlier on. Lemonade, from 2009, <a href="https://www.instagram.com/p/BFS1gjPPw0T/?taken-by=beyonce" data-link-name="in" body link" class="u-underline">a favorite of Beyonc, came in the first 15 minutes. But you almost had to admire his refusal to treat his bestselling album, 2009s The State vs Radric Davis, as his heyday.
Gucci had plenty of backup: For 2 Chainzs No Lie, producer Mike WiLL Made-It leaped from the wings on to the bench of a cocaine-white baby grand piano to rock out. Drake stuck around until almost the end for the 2009 collaboration Believe It Or Not. Drake has scored hits with artists Future, 2 Chainz, Migos that Gucci discovered first, so his extended stay felt like the least he could do.
Once Drake departed, the crowd began to disperse. Then, the floor shook with the titanic bass of First Day Out the Feds. Local radio has been bumping it all summer. So folks rapped along: But I bend, dont break / I dont ask, just take / Black gloves and black tape / This is my first day.
Suddenly, the night felt like the best thing Gucci could have asked for: a fresh start.
Read more: https://www.theguardian.com/music/2016/jul/23/gucci-mane-review-atlanta-drake-fetty-wap