<figure class="media-landscape" has-caption full-width lead">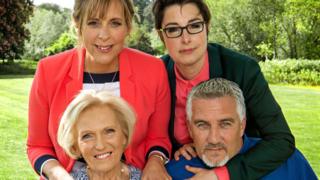 Image caption The show was first broadcast in 2010
The BBC has lost the contract to broadcast The Great British Bake Off, which will now be shown on Channel 4.
It has signed a three-year deal with Love Productions, which makes the hit show, currently shown on BBC One.
The first programme, a version of Celebrity Bake Off, will come in 2017.
Love Productions said negotiations with the BBC had been taking place for a year, with a last-ditch meeting on Monday. They signed a deal with Channel 4 the same evening.
The BBC earlier said it hoped Love Productions would change their mind and that Bake Off was a "quintessentially BBC programme".
<div id="bbccom_mpu_1_2_3″ class="bbccom_slot" mpu-ad" aria-hidden="true">