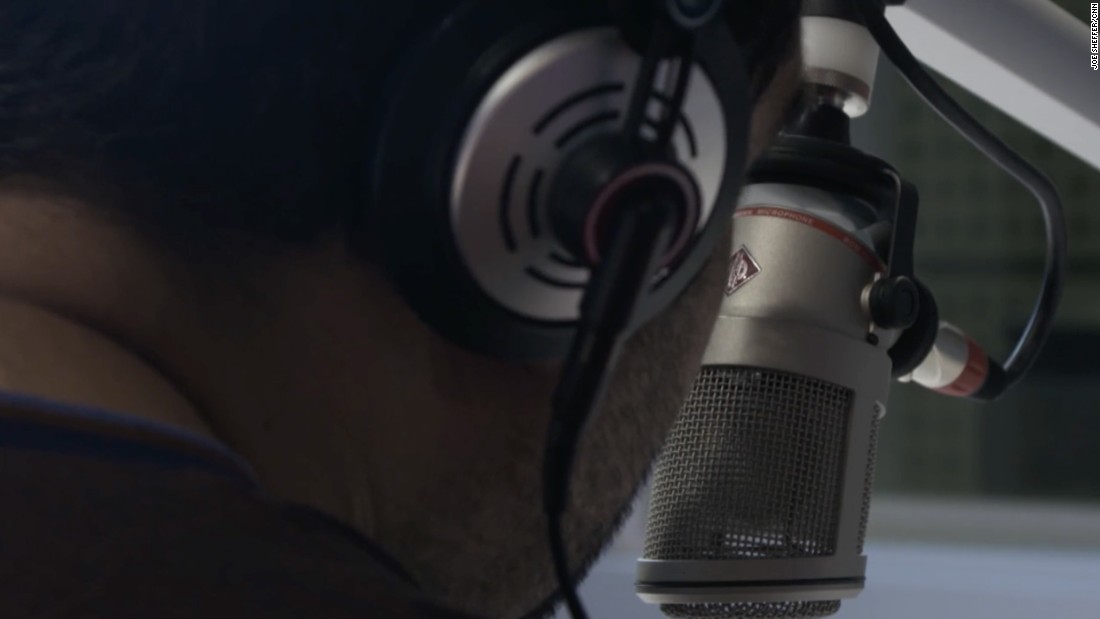 Irbil, Iraq (CNN)Not far from Mohamad Al Mawsily's studio, fierce battles are raging to oust ISIS from the northern city of Mosul. But from his secret location, the young Iraqi businessman is waging another war against the militants on a daily basis. Less bloody? Yes. But, still potentially lethal.
There are no bullets and bombs in this building. No high-definition images of war being broadcast to the world on TV or social media. Here, there are only two things that ISIS hates: music and truth.
Almost a year after ISIS imposed its signature tyranny in Mosul and surrounding Nineveh province, Al Mawsily and two partners launched a radio station for the million or so residents left trapped in the beleaguered city. They named it Alghad, or tomorrow, in hope of a better future
Salim has been composed through the entire show but is now fighting tears. The producers in the sound booth look at each other, not knowing what to do. Salim manages to hold it together. There is defiance, after all, amid Zahra's sorrow.
Al Mawsily is also on the verge of crying. Zahra is the spirit of Mosul, he says.
He tells callers not to identify themselves or give away their locations or divulge specifics about their situations. He is all too aware of the consequences.
"Every caller from Mosul takes a risk to call in," Al Mawsily says. "Death."
He has received threats himself from ISIS, but the danger is so much greater for people still living in Mosul. He feels honored they are willing to take such a huge chance to make the call to Alghad.
"When I sleep at night, I feel like I have done something," he says. "Nothing is as valuable as a drop of human blood."
Two months ago, a poor man from Mosul called in to the show and said he spent his last few dinars buying cellular call time. It was not to report an emergency or speak with a faraway loved one; the man simply wanted to express himself freely the only way he could: on Al Mawsily's radio station.
The man wanted the world to know he was a proud Mosul resident who opposed the brutal reign of ISIS over his hometown. He called in just to encourage the underground radio station to keep broadcasting, despite the many dangers.
The man said he had no money left after the call and knew that because he had crossed ISIS, he risked death if discovered, Al Mawsily tells me.
"It's not logical in that situation to spend your last dollar on a phone call," he says. "To that man, it was very important. Expressing himself was part of proving his identity."
Al Mawsily carries that call with him always. It buoys him in his unusual undertaking.
He hopes one day soon the radio station will no longer have to operate clandestinely and will contribute to the stabilization process. If and when Mosul is free.
Read more: http://www.cnn.com/2016/10/22/middleeast/mosul-offensive-pirate-radio-iraq/index.html