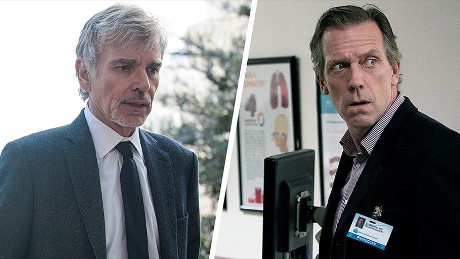 (CNN)The parallels between "Goliath" and "Chance" — two so-so dramas premiering on Amazon and Hulu — underscore a marketing strategy employed by these streaming services. While the shows are pretty conventional, they showcase high-profile stars — Billy Bob Thornton and Hugh Laurie, respectively — who should at least help cut through the clutter.
The protagonists share a more-than-passing resemblance, down to their bleak lives within bright California environs, ex-wives and the daughters that humanize them. Plus, each is drawn into a situation by what initially looks like a damsel in distress, giving them a cause for which to fight.
Casting, including key supporting roles, elevates each show. But neither feels like a candidate for admission to the club of top-tier dramas, the bar these premium offerings inevitably aspire to clear.
<
ul class="cn" cn-list-hierarchical-xs cn–idx-4 cn-zoneadcontainer">
Co-created by David E. Kelley, whose legacy of legal shows includes "The Practice" and "Ally McBeal," "Goliath" is a limited eight-episode series, starring Thornton as Billy McBride. Thornton plays a down-on-his-luck attorney who stumbles into a major case — after a fatal explosion at sea — that puts him up against the massive law firm where he once worked.
Of course, that was before he became a boozer, moved into a fleabag motel in Santa Monica and spent most of his time handling low-rent clients in Van Nuys. (L.A. suburbs play a strong supporting role in the festivities.)
Built around corporate malfeasance, "Goliath" has much in common with "The Verdict," the 1982 movie that starred Paul Newman as a lawyer who lands a case in which he appears to be totally overmatched and outclassed.
In terms of the warring sides here, the show is about as subtle as its title, with William Hurt as the scarred, shadowy patriarch of the old firm, so evil as to practically reek of brimstone; Maria Bello as McBride's ex, who still works there; and Molly Parker as one of the attorneys he'll face in court.
That's a lot of acting chops squeezed into one series, and Kelley is too gifted a writer not to produce some clever dialogue and twists; still, the tale of a drunken lawyer seizing this shot at redemption can't help but feel a tad stale, almost like a variation of Thornton's "The Bad News Bears" role. Perhaps that's why when McBride proclaims, "I'm actually doing this again," he could easily be speaking about the show in general.
"Chance," meanwhile, features Laurie as the title character, who shouldn't be confused with "House." A consulting neuro-psychiatrist, he speaks of spending his days "in the company of those mutilated by life," before crossing paths with an alluring patient, Jaclyn (Gretchen Mol), who has an abusive ex (Paul Adelstein) and might be suffering from dissociative personality disorder.
Chance's travels somewhat haphazardly bring him into contact with a menacing enforcer ("My Name is Earl's" Ethan Suplee), a violent brute that gradually drags Chance deeper into his world, with the promise he can settle everything for the right price.
Based on the novel by Kem Nunn (whose TV credits include HBO's short-lived "John From Cincinnati"), "Chance" owes a spiritual debt to Alfred Hitchcock's "Vertigo," given that the protagonist can't exactly be sure what about Jaclyn and her trances he can trust.
But again, there's something a bit too familiar about this ordinary guy — played by Laurie as weary and melancholy — being sucked ever further into darkness and jeopardy.
As constructed, both series are mildly watchable and tense, but well short of riveting. A few years ago, the star power alone would have represented breakthroughs for Amazon and Hulu. But having shown they can play in the big leagues, the expectation now is that their shows will be armed with more than just a slingshot.
"Goliath" premieres October 14 on Amazon. "Chance" premieres October 19 on Hulu.
Read more: http://www.cnn.com/2016/10/13/entertainment/goliath-chance-review/index.html