Though football has infinite possibilities, it delivers very few goals unlike any other, but the genius of Ronaldinho found a way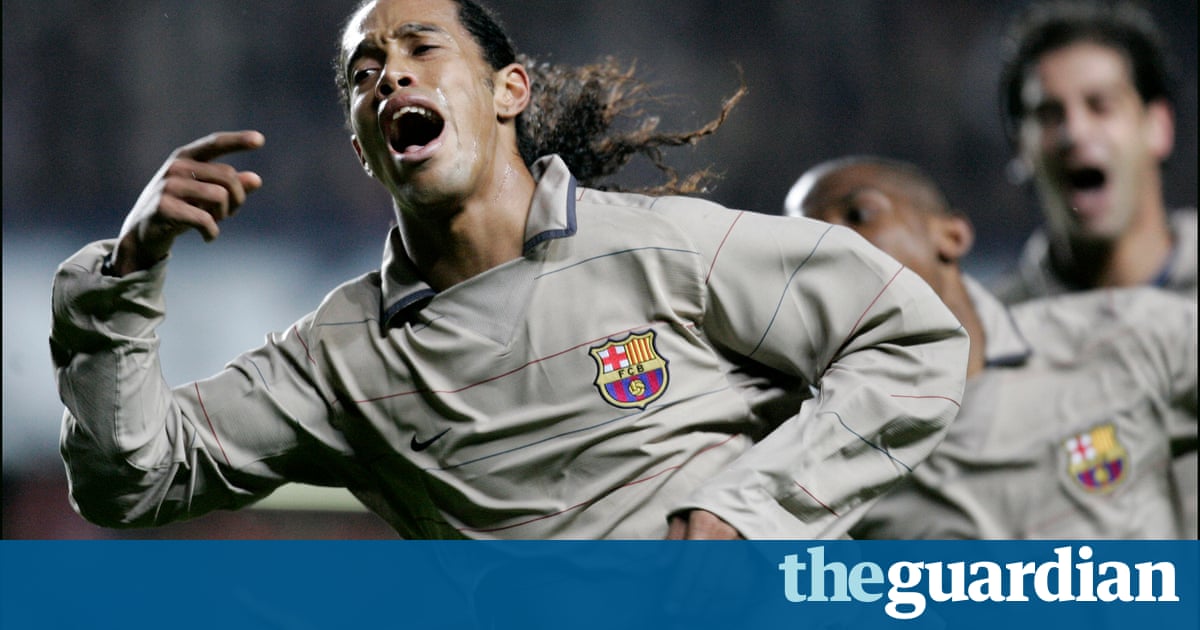 Football has lots of worthy aims: identity, community, competition and the like. But important though they are, none are felt quite so profoundly as the simple desire to take the piss.
Off the pitch, whether in dressing room, stand or pub, no tiny fault passes unexploited, while on it, the imperative to make opponents look silly is even more elemental than in other sports. And no one, anywhere, ever, has embraced that art and mastered that craft to the same degree as Ronaldinho Gacho.
Ronaldinhos genius became evident while he was still a child, and being that good that young represented a direct challenge to his elders. But there was more to it than surface disrespect. Without wishing to objectify him, a short-arsed waif with bug eyes, buck teeth and jheri curl had no business looking so cute and playing so cruel. Yet, there he was, charming and humiliating all those lucky and unlucky enough to cross his path.
Ronaldinho soon joined his brother at Grmio, and aged 19, carried the team to the final of the Rio Grande do Sul state championship, in which he deliberately, hilariously and absolutely ripped it out of Dunga, Brazils World Cup-winning captain. By incredible coincidence, when Dunga was Brazils World Cup manager, he did not pick an in-form Ronaldinho for his squad; one quarter-final defeat later and he was looking for a new job, which really showed everyone.
Ronaldinho had first been picked for his country in 1999, and four minutes into his competitive debut scored a goal of perfect impudence, controlling a pass from Cafu with his shin, flicking the ball over one defender, bursting past another, and finishing with ease. Then, later that year, he teamed up with 22-year-old Ronaldo or Ronaldinho as he was known at the time to destroy an Argentina side featuring Walter Samuel, Roberto Ayala, Fernando Redondo, Juan Sebastian Vron, Javier Zanetti, Hernn Crespo and Ariel Ortega.
In 2001 Ronaldinho moved to Paris Saint-Germain, where he became acquainted with Jay-Jay Okocha, another virtuoso, and it was there that his repertoire of elasticos, pedaladas, feints and no-look passes first reached a worldwide audience. It was also there that he first ran into disciplinary difficulty: Luis Fernndez, his endearingly avuncular manager, considered extended evenings and holidays to be a step too far, and perhaps as a consequence, Ronaldinho did not tear it up to the full extent of his potential.
However this tension helped cement his status as the acme, epitome, apex and apotheosis of what Brazilians call malandro, a zesty trickster and provocateur revered for speaking truth to power. So profound is the affection for such types that Garrincha, its original footballing iteration, was known as Alegria do Povo, the Joy of the People. Garrincha, though, lived a difficult life, and eventually died of alcoholism. But if he was a tragic hero then Ronaldinho was a heroic hero, within whom resided all the joy, grace, playfulness and abandon let us just call it love which makes Brazil the greatest country on earth.
In June 2002, Ronaldinho was part of the Brazil team which won the World Cup, taking centre-stage in the quarter-final against England: in creating an equalising goal for Rivaldo, he left a bamboozled Ashley Cole staggering, then curved an improbable free-kick winner past David Seaman. At the time, there was plenty of debate: had he meant it or had he not? Now, though, we can be sure: he had an eye for a weak spot, the chutzpah to attack it, and the skill to pull it off. So he did.
A year later Ronaldinho was ready to move to one of Europes bigger clubs, but because Real Madrid had sagely deduced that an amazing, amusing, unique talent, amplified by an amazing, amusing, unique phizog would be anathema to sponsors, they bought David Beckham whom Manchester United had tried forcing to Barcelona. This meant Bara could redirect the cash to hijack Uniteds own deal for Ronaldinho, while Peter Kenyon cannily ensnared Tim Howard, Klberson, Eric Djemba-Djemba and David Bellion instead. Oh, and some goofy, zitty Portuguese show-pony who made John OShea look bad during the six-month period where such a feat was deemed difficult.
Ronaldinhos first opponents at the Camp Nou were Sevilla, who quickly went a goal up. Just before the hour the new man took possession on the left and gambolled across halfway, swaying mesmerically inside two challenges before exploding into a drive which crashed in off the bar. On the touchline, a staggered Frank Rijkaard had no idea what to do with himself, while in the stands people went wild. Football was on the cusp of change.