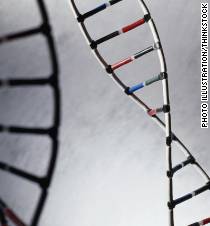 Would you want to know your future if science could tell it to you?
Some forms of commercial genetic testing promise something like this kind of future-telling. But you need to think long and hard about peeking into your own genes to see what they hold in store for your health. It may not be so easy to cope with the bad news that could result. And it is likely that other people could know your genetic future even if you do not consent to tell them.
<
ul class="cn" cn-list-hierarchical-xs cn–idx-4 cn-zoneadcontainer">
Let's say you send your spit (yes, spit is the source of DNA for this kind of testing) off to one of the many companies advertising direct-to-consumer genetic testing and the results showed you had a huge risk of a fatal disease.
Would that freak you out? Would you want to get this news in a letter sent by overnight mail? Wouldn't you prefer to have someone available to counsel you about what negative findings mean and what to do about them?
<
div class="zn-body__read-all">
<
div class="el__embedded" el__embedded–standard">