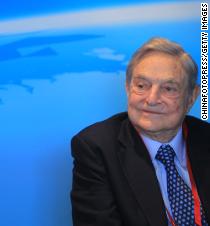 (CNN)Here's a look at the life of one of the most successful investment financiers in the world, George Soros. An active philanthropist, Soros has donated more than $10 billion to various causes over the years.
Personal:
Birth date: August 12, 1930
Birth place: Budapest, Hungary
<
ul class="cn" cn-list-hierarchical-xs cn–idx-4 cn-zoneadcontainer">
Birth name: Gyrgy Soros
Father: Tivadar Soros, lawyer
Mother: Elizabeth (Szucs) Soros
Marriages: Tamiko Bolton (September 21, 2013-present); Susan Weber (June 19, 1983-2005, divorced); Annaliese Witscha (September 17, 1960-1981, divorced)
Children: with Susan Weber: Gregory, Alexander; with Annaliese Witschak: Jonathan, Andrea, Robert
Education: London School of Economics, B.S., 1952
Timeline:
Spring 1944 – The Soros family goes into hiding to avoid deportation to a concentration camp by the Nazis.
1956 – Immigrates to the United States.
1973 – Soros sets up his own hedge fund, which eventually becomes the Quantum Fund.
1977 – Is charged with stock manipulation. Soros eventually signs a consent decree that neither admits nor denies guilt. He also settles a $1 million lawsuit with the plaintiff, the Fletcher Jones Foundation.
1979 –
Establishes the
Open Society Foundations,
a network aimed at shaping public policy by promoting democracy, government accountability and human rights through programs in education, public health and independent media.
September 16, 1992 – Soros bets $10 billion against the value of the British pound. After the currency collapse, known as "Black Wednesday," Soros makes up to $1 billion and becomes known as the man who "broke the Bank of England" by the London press.
1996 – Donates $1 million to promote ballot initiatives in California and Arizona that eventually lead to the legalization of medicinal marijuana use.
December 2002 – Soros is convicted of insider trading by a French court and fined $2.25 million (2.2 million Euros) for a 1988 deal with French bank Socit Gnrale.
2009 – The PSzAF, the Hungarian financial market regulator, fines Soros Fund Management, LLC, $2.2 million (1.6 million Euros), for attempting to manipulate the stock of Hungary's largest bank.
Read more: http://www.cnn.com/2013/05/27/world/george-soros-fast-facts/index.html