<figure class="media-landscape" no-caption full-width lead">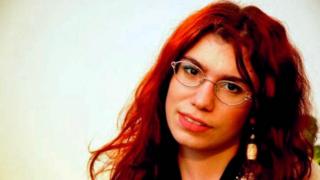 Image copyright Raluca Enescu
Three million citizens of other European Union countries live in the UK. Many never sought British citizenship because they never imagined Brexit would happen. Now that it is happening, how do they feel about a general election dominated by Brexit, in which they cannot vote?
'I desperately wish I could vote'
Romanian citizen Raluca Enescu, 27, lives in south London
On Facebook, people were talking about the election. I said: "I'm an immigrant, I have no right to vote. If there are any people who are too disgusted to vote, please vote for me." So I now have a guy in Manchester who will vote on my behalf.
A lot of people are complaining immigrants are not integrated into society. But political participation is part of being integrated, isn't it?
It does mean a lot for me that I'm disqualified from voting. I have no idea how my status in the UK will change as a result of the referendum. I'm one of those people who is facing uncertainty about whether I will be able to secure permanent residency or not.
<
div id="bbccom_mpu_1_2_3″ class="bbccom_slot" mpu-ad" aria-hidden="true">