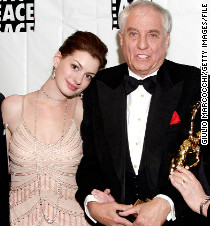 (CNN)Hollywood's elite spent Tuesday evening remembering a man who impacted their lives and entertained audiences for generations.
Director and producer Garry Marshall's body of work spans six decades with hits peppered throughout like scenic stops on a road trip. Marshall — a guy whose schmaltzy, feel-good stories earned him few fans among the critics — created TV series and movies that launched stars and brought families together.
Here are some of his most memorable projects:
<
ul class="cn" cn-list-hierarchical-xs cn–idx-4 cn-zoneadcontainer">
"The Odd Couple" (1970-75)
Marshall's first project for television seems now like a classic story — two polar opposite people stuck in a situation from which neither know exactly how to escape. But it's only classic because Marshall's story about unkempt Oscar (Jack Klugman) and perpetually put together Felix (Tony Randall) popped off the TV sets and ingrained itself into pop culture.
A new version of the show, starring Matthew Perry and Thomas Lennon, airs on CBS.
"Happy Days" (1974-84)
The journey "Happy Days" took to get from script to small screen was rocky. It once had a different name and no "Fonzie." The second of two pilots had three scripts, and at one point, emerging star Ron Howard wasn't certain he wanted to stick out the show's rough start. But the stars — both cosmic and Hollywood — eventually aligned for this '50s-set coming-of-age tale that weaved heartfelt stories and colorful comedy.
The series went on to have 11 seasons, set in motion the careers of Winkler and more, and bred seven spin-offs including "Laverne and Shirley," "Mork & Mindy" and "Joanie Loves Chachi."
"Beaches" (1988)
This dramatic tale a lifelong friendship between two women didn't win any Oscars, but holds a place in the tear-jerker hall of fame. It was also a scene-setter, of sorts, for many of the projects that would come from Marshall down the line. There were strong female characters (played by Bette Midler and Barbara Hershey), powerful emotional notes and a poignant end.
Its soundtrack was also anchored by "Wind Beneath My Wings," a song that won Midler two Grammy Awards.
"Pretty Woman" (1990)
This rom-com is less of a movie and more like a piece of history. It was not only Marshall's highest-grossing film ever, but it marked the start of a decades-long professional relationship between the director and star Julia Roberts. They went on to make "Runaway Bride" and "Mother's Day" together. Not including it here would be a big mistake. Huge.
"Princess Diaries" (2001)
Young Anne Hathaway had only appeared in a sitcom before Marshall picked her to play outcast-turned-princess, Mia Thermopolis. Fluffy as the premise was, the whimsical air it carried made it one of Marshall's most charming movies, and introduced his work to a new generation of young movie goers.
Marshall and Hathaway teamed up for a sequel in 2004, and had reportedly been talking about a third before his death.
"Valentine's Day" / "New Years Eve" / "Mother's Day" (2010-16)
Marshall's penchant for holiday-pegged movies was always motivated by something greater. While promoting "Mother's Day," for example,
Marshall said
he set out to tell a story about how mothers have it tough, more than a story about the day itself.
These projects later in his life also allowed him to do what he loved most — work with great actors. Because these films required such a small time commitment from the cast, Marshall was able to book big name stars and give them, he once said, a different kind of filmmaking experience. He wouldn't ask them to fly, or work with a green screen. He just wanted them to act with other actors. That, it seems, was always enough.
Read more: http://www.cnn.com/2016/07/20/entertainment/garry-marshall-movie-highlights/index.html