Writer and humorist says farewell to 18,000 fans, but last-show aspect was subtle as he closed out as if it were any other though Obama called in
The writer and humorist Garrison Keillor served up a bittersweet farewell for 18,000 fans at the Hollywood Bowl on Friday, as he hosted his final episode of the old-style radio variety show, A Prairie Home Companion.
Keillors swan song was not markedly different from most of his nearly 42 years of Companion episodes, offering a rich mix of Americana music and often tongue-in-cheek comedy.
Barack Obama did, however, call in for a special segment recorded earlier on Friday, but that will not be heard until Saturdays broadcast.
The last-show aspect of the doings was so subtle that, at one point, even Keillors cast mates began to prod their boss, asking: How do you feel [about leaving]?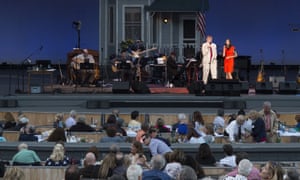 Read more: https://www.theguardian.com/media/2016/jul/02/garrison-keillor-final-prairie-home-companion-episode