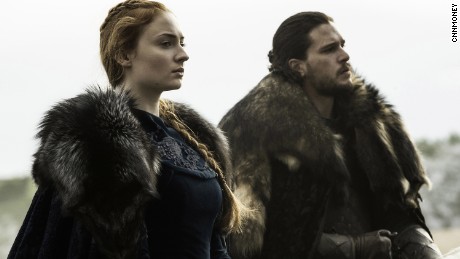 San Diego (CNN)With battles, backstabbing and death happening on-screen, it's no wonder the cast of "Game of Thrones" takes every possible opportunity to get a laugh in.
In a video, which premiered Friday at San Diego Comic-Con, Peter Dinklage, Emilia Clarke and Kit Harrington are among the cast members caught on camera having a little fun behind the scenes of the hit HBO show.
The blooper reel features outtakes of some of the most momentous scenes of season six.
<
ul class="cn" cn-list-hierarchical-xs cn–idx-4 cn-zoneadcontainer">
The video capped off a conversation at Comic-Con that was light on details about the upcoming season the show is only in the beginning stages of production.
As previously
reported
, producers had to push back their production start date so they could film in a wintery setting.
Despite not having much concrete info to report, Sophie Turner, who plays Sansa, said the events of last season could set the character on the path to darkness, empowerment or perhaps some combination of the two.
In the penultimate episode of last season, Sansa finally got her revenge on her tormentor Ramsay, which led to his death.
One thing she is more sure of? That Sansa may not be confident in Jon Snow's ability to lead.
"I think she believed it was more a joint effort in terms of the Battle of the Bastards," she said. "She thinks they should be King and Queen of the North, certainly … but I'm not sure she thinks Jon is capable of running Winterfell and the North."
Turner said Sansa likely doesn't think Jon "has the intellect, knowledge and experience that she has and I concur."
"Game of Thrones" season 7 is expected to premiere in summer 2017.
Read more: http://www.cnn.com/2016/07/23/entertainment/game-of-thrones-comic-con-panel/index.html